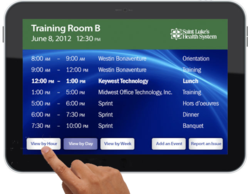 SignWave represents a major transition forward in digital signage... We engineered the SignWave platform to be lower cost, easier to install, setup and maintain than anything else on the market.
Lenexa, Kansas (PRWEB) March 20, 2013
Keywest Technology is pleased to announce SignWave™, its latest digital signage technology designed to automatically extract and display room event and scheduling information from popular third-party property and event management systems that are commonly used in corporate, hospitality and higher education markets.
According to Nick Nichols, Keywest Technology's president and CTO, SignWave is in keeping with the company's philosophy of making products that work… 'technically, like a day at the beach,' which is the slogan the company was founded on in 1998.
Nichols explains, "SignWave represents a major transition forward in digital signage, and to be more specific, multiple transitions. The first transition is going from Microsoft OS to Android, which utilizes small format computers more efficiently. Another transition is from an it-can-do-anything approach to technology to a specific-purpose application that enables us to develop for niche markets. Finally, for those that are tasked with implementing a digital conference sign solution, they now have an attractive option over difficult to operate and more costly solutions on the market today. We engineered the SignWave platform to be lower cost, easier to install, setup and maintain than anything else on the market."
These noble goals of SignWave digital signage are primarily achieved by building on the Android platform. SignWave works on Keywest-supplied Android tablet devices that run 4.0 or newer. This gives the SignWave product line a significant edge in price, performance and usability.
Besides a lower price point and a quality display presentation, SignWave usability is a major feature. To highlight the usability of SignWave, Keywest has coined the term "hands free" digital signage. The idea behind SignWave is to set it up and let it automatically source data from existing event and scheduling programs. This removes the necessity of hands-on management and allows event planners to duplicate their work without duplicating their efforts.
To make this possible, the SignWave system includes a server that provides SQL data acquisition with built-in network security from the most popular event management software (EMS) and property management systems (PMS) used today. As of launch day, SignWave is compatible with Microsoft Exchange Server 2010 / Outlook, Newmarket Delphi EMS, MICROS Fidelio Opera PMS and Dean Evans EMS. Nichols said that SignWave can easily adapt to any event management system and that Keywest Technology will be adding more third-party software interfaces to keep up with demand.
Another outstanding feature of SignWave is the easy-to-implement design. To achieve quicker installations and reduce labor costs, Keywest offers a standard wall-mount frame with a built-in 10" display that mounts quickly on drywall. A 22" display is also available for larger conference room signs. Additionally, much larger displays are available for the SignWave digital reader board option.
Since the design includes power-over-Ethernet (POE) as an option, all that is required to power and connect SignWave to a LAN is CAT-5/6 cable. Furthermore, SignWave includes custom surround options, which Keywest designers can style and color match to any motif.
The company says orders for the first systems have been shipped and installed starting in the first quarter of 2013. Reseller inquires are welcomed. Much more information about SignWave can be found on the product's microsite, http://www.signwave.us.com.
About Keywest Technology
Keywest Technology is an authentic designer of digital signage systems offering solutions from simple playback to large multi-sign and interactive networks. Keywest builds systems with a holistic approach that include key software technologies, creative design, system design, and comprehensive support. Based in Lenexa, Kan., the company is dedicated to making digital signage technically as easy as a day at the beach. For more information, visit http://www.keywesttechnology.com.