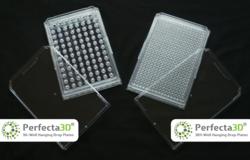 Perfecta3D Hanging Drop Plates continue to be successfully used for work in cancer models, vascularization research, and immunology.
Ann Arbor, MI (PRWEB) March 19, 2013
3D Biomatrix, a leader in three-dimensional (3D) cell culture products, is pleased to announce the winners of its Spring 2013 Conference Stipend. The three researchers were each awarded $500 for presenting the results they obtained from using Perfecta3D® Hanging Drop Plates at Spring 2013 conferences. The winners are:
(1) Wei-Sheng Chen, Tufts University, TD139, a galectin-1 and galectin-3- specific inhibitor, mitigates VEGF-A-induced Angiogenesis (Experimental Biology 2013, April 20-24, Boston, MA)
(2) Marylou Ingram, Huntington Medical Research Center, Tumor Histoids: Scalable Production of Living Human Mini-tumors for High Throughput Drug Screening (Cyto2013, May 19-22, San Diego, CA)
(3) Xuemei Zhong, Boston University Medical Center, Guardian Angels in the Graveyard: B1 B Cells Promote Thymic Treg Survival (Immunology 2013 AAI Annual Meeting, May 3-7, Honolulu, HI)
Additional information about the presentations, including abstracts and presentation dates, times, and locations, can be found on the 3D Biomatrix website.
Perfecta3D Hanging Drop Plates allow life science researchers to work in an environment that simulates the three dimensions of the human body more closely than existing flat, two-dimensional (2D) cell culture techniques, such as the Petri dish. With one spheroid per well, the plates facilitate the formation, culture, and testing of 3D spheroids and stem cell aggregates, including embryoid bodies, in a standard 96- or 384-well plate format without the aid of coatings or matrices. They are easy to use, and cell growth can be monitored regularly. Media and compounds can be added or removed from the top of the plate without requiring new equipment, and cells can be added for co-cultures.
"Our 3D plates continue to be successfully used for work in cancer models, vascularization research, and immunology," stated 3D Biomatrix CEO Laura Schrader. "We are proud to support these researchers by helping them present their exciting new data in these important research areas."
More information about the conference stipend and the Perfecta3D Hanging Drop Plates can be found at 3DBiomatrix.com.