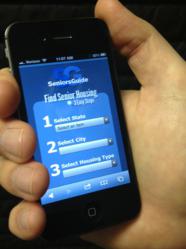 Visiting [SeniorsGuideOnline.com] on a desktop computer will look different than visiting on a smartphone, tablet or e-reader
Richmond, VA (PRWEB) March 18, 2013
SeniorsGuideOnline.com is optimized for mobile browsing, in response to the retirement community guide's website seeing a 300% increase in visits from mobile devices in 2012 for senior apartments, independent living, assisted living care and more.
"As more older adults adopt mobile technologies each year, we will continue to see a rise in searches for housing, homecare and services from these devices," says Katharine Ross, Vice President of Sales and Marketing for Seniors Guide.
In response to the growth in mobile device ownership – which includes smartphones, tablets and e-readers, http://www.SeniorsGuideOnline.com has become mobile friendly, and is optimized to better accommodate searches from mobile devices.
"Visiting SeniorsGuideOnline.com on a desktop computer will look different than visiting on a smartphone, tablet or e-reader," says Ross. "The browsing experience of SeniorsGuideOnline.com is optimized for our audience, however they choose to look for retirement information online".
A January 2013 report by eMarketer found that smartphones are heavily penetrating the mobile phone landscape. For adult seniors ages 65+, the report found that 16% of cell phone owners owned a smartphone device. Most popular brands of smartphones for these ages are Samsung and LG. Apple iPhones only represented 6% from adults 65+.
The smartphone numbers ranked higher for boomers, who are also researching aging options online for themselves, and their senior parent. Smartphone ownership by baby boomers ages 47-56 was 39%, while ages 57-67 was 28% in the report.
Seniors Guide, a Richmond, Va. -based company publishes Seniors Guide magazines throughout Cincinnati, Ohio; Dayton, Ohio; Indianapolis, Indiana; Raleigh-Durham, North Carolina; Richmond, Virginia; and Roanoke-Lynchburg, Virginia and features a correlating website of http://www.SeniorsGuideOnline.com. Seniors Guide's mission is to help seniors and their families find the information they need on options available in senior housing, senior care, assisted living, independent senior living, retirement communities and other retirement living needs. Seniors Guide also has resources at http://www.HomeCareChoice.com for Cincinnati, Ohio; Dayton, Ohio; Raleigh-Durham, North Carolina; and Richmond, VA. Ross Publishing, Seniors Guide's parent company, began in 1991 and has been publishing helpful, free publications and websites ever since.