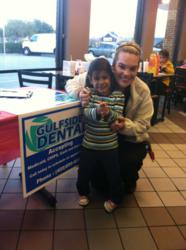 Beaumont, TX (PRWEB) March 16, 2013
Gulfside Dental Teams Up with Chik-fil-A to Promote Dental Health Awareness
Gulfside Dental, a full-service family dental office, is devoted to providing the best oral care for not only their patients, but also the community. In an effort to continue promoting dental health awareness to the Golden Triangle, the team at Gulfside Dental participates in a variety of community events. Gulfside Dental is now adding Chik-fil-A Family Night to their event calendar on every third Tuesday. "At Gulfside Dental, we want to make a positive and lasting impact on every person, community program, or event we serve", says DeMarco.
Gulfside Dental's goal is to provide the children and adults of Southeast Texas with the high quality dental care they need and deserve. By attending local events, like the Chik-fil-A Family Night, Gulfside has the opportunity to talk to parents and children about the importance of proper dental care. While sharing with the public about their services, Gulfside often takes the opportunity to give away toothbrushes, toothpaste and dental floss. Every event Gulfside Dental attends offers a chance for them to actively inform each person about proper dental hygiene.
The Chick-fil-A Family night is held each Tuesday at the Dowlen Road location in Beaumont, TX. The purpose of the family night is to provide an atmosphere where families can create lasting, fun memories together. Children can also join the COW CLUB (for free) to receive fun Chick-fil-A stuff!
Gulfside Dental offers a comprehensive oral health program, including preventative, cosmetic and reconstructive dentistry for all ages as young as six months old. Gulfside Dental also specializes in: bridges and implants, extractions, dentures and partials, braces, emergency dental care, Snap-On Smile, LUMINEERS, and ZOOM whitening. Gulfside Dental accepts all major PPO insurances, most HMO Insurances, Medicaid, CHIPS, Texan Plus, HealthSpring, Care Credit, Visa, Mastercard, and Discover. Gulfside Dental is located at 4179 Dowlen Road in Beaumont, in the Barnes and Noble shopping center, across from Parkdale Mall. For appointments, please call 409-899-4867.