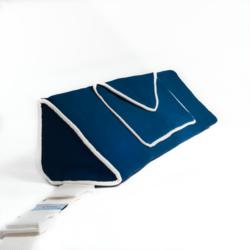 It's the only product on the market right now that addresses the end of the bed
Miami, FL (PRWEB) March 17, 2013
Popular children's product manufacturer, Two Hippos, has just hit the headlines by winning the Huggies Mom Inspired Grant for their popular kid's bed rail, the Wall Bumpi. The Miami based organization is dedicated to making lives of parents easier by manufacturing innovative products for their kids. Unlike most children's product manufacturers in the country, Two Hippos is run by moms continuously engaged in creating products that provide physical as well as emotional comfort to children. In addition to bed rails, Two Hippos also has an awesome collection of cot mats, body pillows, and girl's under shorts.
The Mom Inspired Grant is offered every year by Huggies to recognize and inspire the talented and innovative community of moms who have invented baby products that have made a long lasting impact on people's lives. This year, Wall Bumpi, a children's bed rail, has distanced itself from hundreds of other fabulous products to find a place amongst the eleven recipients of this grant. The company has already received the grant of $15,000 that will be spent on development of this business. It should be noted that some of the products manufactured by Two Hippos have already won The National Parenting Center's Seal of Approval. After receiving the news about the awarded grant, a senior spokesperson from Two Hippos said, "This is a huge honor for us considering the prestige of Huggies, the fierce competition, and because it is only given to a select few mom inventors each year!"
The transition from the closed environment of a crib to an open space can be a difficult and potentially risky one for any child. Wall Bumpi has been created with the utmost care to protect the toddlers from the hard walls and to act as a rail on the edges of the bed. When asked about this award winning kid's bed rail, its creator Natalia Ortiz says, "It's the only product on the market right now that addresses the end of the bed - kids can roll right out and now the Wall Bumpi can keep them in. It can also be used as a barrier between siblings or child/parent when sleeping together, so you don't feel the little kicks at night. I also wanted something that was easy for me to make the bed in the morning! You just simply unbuckle the safety lock and pull the Bumpi up to make the bed in the morning! At night, you just latch the buckle again, and that's it! Last but not least, it's stylish! We offer a variety of colors to match the bedding."
All Two Hippos products are available on their website: http://www.twohipposstore.com. Two Hippos' website was designed by Miami web developers, NetroStar.
For inquiries regarding the Wall Bumpi or other Two Hippos products, contact 1-855-896-4477. For inquires on Netrostar, contact Marcin Ladowski at (305) 577-9904.