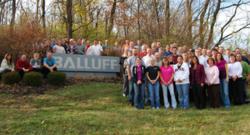 Florence, KY (PRWEB) March 18, 2013
Balluff Inc., located in Florence, KY, is an expanding, global manufacturing company, internationally known for the latest sensor technologies for industrial automation. In the past few months, Balluff has added several new positions in sales, which include:
Jim Seery
Jim Seery was hired for Technical Systems Support for Balluff's Automotive Sales Team in Michigan.
Jim earned his Electrical Engineering degree from Lawrence Technological University. Prior to Balluff, Jim worked for an industrial power supply manufacturer and a resistance and flash/butt welding controls manufacturer, as well as a number of service-based companies in the automated controls industry. Jim also has a residential builders license and was self-employed for six years doing a combination of residential construction and automotive controls software.
Rich Frank
Rich Frank was recently hired as a Strategic Account Manager for Balluff's Automotive Sales Team in Michigan. Prior to Balluff, Rick worked at SMC Pneumatics for seven years. Before SMC, Mike worked for 15 years in Law Enforcement (retired as a Command Officer, Rank Sergeant; Department Defensive Tactics Trainer; and Sniper on the Department Special Response Team).
Tommy Hailey
Tommy Hailey also joined the Balluff Automotive Sales Team as Strategic Account Manager in the Tennessee region. Before joining Balluff, Tommy spent most of his sales career at The Automation Center in Nashville, TN, a distributor of industrial control products.
Jake Dreske
Jake Dreske was recently hired as a Balluff Strategic Account Manager in Wisconsin. Jake has been in the automation and control industry for over 17 years on both the manufacturing and distribution side, with various roles, including technical support, inside sales, product specialist and outside sales. He most recently worked at Pro-face America, a Schneider Electric Company.
Michael Sorvino
Michael Sorvino is the newest member of the Eastern Region Sales team for Balluff. Before coming to Balluff, Mike ran an independent sales rep firm, Intelligent Solution Providers, where he represented four separate companies in the south east region. Prior to this, Mike worked for Videojet Technologies, a Danaher Product Identification division, as a Regional Sales Manager, managing a 14 state Southeast and lower Midwest region. Earlier in his career, Mike also spent 5 years in the US Navy.
Dave Davison
Dave Davison joined Balluff's Midwest sales team as a Channel Development Manager in the Missouri/Kansas/Iowa region. He has spent much of his sales career focused on factory automation and RFID products, with 8 years recently at Datalogic/EMS. He has an electronics design background and earned his Electrical Engineering degree from University of Missouri-Rolla.
Balluff is hiring! Visit the careers center on the Balluff website for a list of open positions.