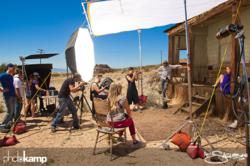 "Of all the workshops I've been to, PhotoKamp has the smallest classes, the best models, and the longest shooting time for photographers."
John Agger, Photographer
(PRWEB) March 19, 2013
Photographer Nick Saglimbeni is bringing back his popular PhotoKamp photography workshop, this time with a European twist. PhotoKamp will touch down in Germany this August for a two-and-a-half day intensive learning workshop, with special emphasis on both studio and location lighting as well as the business of photography.
Over the weekend, participants will have the opportunity to assist Nick on a professional photoshoot and watch him light several models. On Saturday and Sunday, participants will then have the chance to light and photograph their own shoots with professional models, under the supervision of Nick and his team.
When & Where: PhotoKamp Europe will take place August 23-25, 2013 in Saarbrücken, Germany. Detailed travel and lodging information, as well as a Frequently Asked Questions page, can be found at http://www.photokamp.com
Who: Nick Saglimbeni is an American commercial photographer living in Los Angeles. He has shot ad campaigns for Sears, Skechers, Kardashian Kollection, Wacom, Nuvo and more. He is also the longtime photographer for the Kardashian family, and has photographed their magazine covers, their fashion lines, and their annual Christmas card portrait three years running.
A pioneer in progressive photography, Nick recently launched SlickforceGirl—a photography/comic-book hybrid showcasing female heroes—to aid in the fight against breast cancer. In 2010, he designed the Saglimbeni3D camera-system to capture the world's first fully 3D commercial magazine, WMB 3D: World's Most Beautiful. Saglimbeni is also recognized for his charity work and has photographed campaigns for the Breast Cancer Charities of America (BCCA), The Epilepsy Foundation and PETA.
Early registration pricing will be available for students who register by May 1. For more pricing and information, please visit the PhotoKamp website: http://www.photokamp.com
For more info on Nick Saglimbeni, please visit his official blog and website:
http://nicksaglimbeni.com