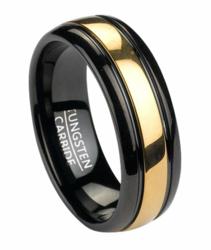 Men wanting to try out the latest trends need look no further than JustMensRings.com's Spring Sale, where affordable and fashionable men's rings can make a difference on an entire wardrobe.
Jensen Beach, FL (PRWEB) March 19, 2013
Men looking to update their wardrobes for spring will no doubt find plenty to choose from with JustMensRings.com's (JMR) newly launched Spring Sale. While JMR prides itself on everyday low pricing, this annual promotion features over 600 styles of men's rings, wedding bands and jewelry marked down further up to 75 percent off retail, including some of the site's most popular items.
Shoppers looking to partake in the latest menswear trends will likely want to take advantage of the deep discounts on some of JMR's hottest and most fashionable styles of men's rings and jewelry. For many men, integrating a few well-chosen accessories is an easy and inexpensive way to give their wardrobes a re-boot. With prices in the Spring Sale section starting under $20, there is truly something for every budget and taste.
Currently, some of JustMensRings.com's most popular items include black rings and rings with wood insets. Black rings have a slightly edgier look which has proven to be extremely appealing to JMR's customers over the past year, with many shoppers even purchasing them as alternative wedding bands. The neutral ebony hue of these rings also makes them incredibly versatile, and easy to pair with day-to-day outfits.
Rings with wood insets are a fast growing trend with men across the United States, and exotic wood men's rings are fast becoming some of JMR's most sought after items. JMR offers several styles of exotic wood rings using Koa, often called the king of Hawaiian woods. The rich tone of Koa wood is the perfect accompaniment to contemporary jewelry materials like titanium and tungsten, and has a masculine look that has no doubt contributed to the popularity of these rings.
Of course, JustMensRings.com's Spring Sale is not without a significant selection of some of JMR's most popular wedding bands, designer rings and jewelry items. Wedding rings marked down for this special promotion include luxurious diamond styles, bands in precious materials like palladium and gold, as well as rings in upscale contemporary materials like cobalt chrome and Argentium silver. JMR carries the designer brand Benchmark exclusively, and a number of Benchmark styles can be found in the Spring Sale section. Rounding out this limited time promotion are affordable men's rings in titanium, tungsten and stainless steel, and men's jewelry items like pendants, necklaces and bracelets.
"We know that many men take the opportunity to try new trends when the season changes," says JustMensRings.com's president and owner Roy Devine. "JMR's Spring Sale allows them to spruce up their wardrobes inexpensively with a few key jewelry items instead of overhauling their entire closets."
JMR's Spring Sale includes men's fashion rings, designer rings, wedding bands and jewelry for men. This special promotion is for a limited time only and only while supplies last. In addition to the special discounted pricing in the Spring Sale section, JMR is offering free shipping on all items. Customers shopping at JMR can always enjoy a 30 day money back guarantee on all products as well as a Lifetime Guarantee on all designer rings.
About JustMensRings.com
At internet-only retailer JustMensRings, customers have come to expect the best possible prices on an extraordinary selection of men's rings, as well as the highest standards of service, selection and quality. The proof is in the numbers: JMR now offers the largest selection of men's fashion rings online, and is the only store in the United States that offers men's large size rings up to size 20. JustMensRings leads the competition with an unparalleled assortment of unique and alternative men's wedding rings in a range of traditional and contemporary materials including gold, platinum, palladium, titanium, tungsten, silver, stainless steel, cobalt chrome and Seranite (or ceramic). Despite the recent rise in gold prices, JustMensRings continues to keep item pricing low and affordable, and shoppers would be hard-pressed to find better deals elsewhere. JMR is dedicated to providing its customers with a simple and secure online shopping experience, and offers a 30 day guarantee and free shipping on all orders over $99.
For more information on JustMensRings, please visit http://www.justmensrings.com.
For further information, please contact:
Roy & Judy Devine, Owners
800-797-9773
roy(at)justmensrings(dot)com