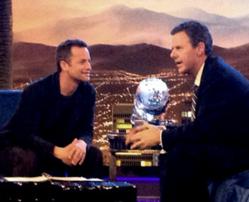 Lynchburg, VA (PRWEB) March 18, 2013
Liberty University Chancellor Jerry Falwell, Jr. is scheduled to appear on TBN's "Praise the Lord," Monday, March 18, for an interview with guest host Kirk Cameron.
The show can be viewed online (http://www.tbn.org/watch-us) at 10 p.m. EST and will also be available for mobile viewing (check cable listings in your area).
The program was taped this week at TBN headquarters in Costa Mesa, Calif.
Cameron has traveled from his home in California to Liberty's campus twice in the past year. He struck up a relationship with the school and with Falwell after his first visit in October 2012, when he was a guest speaker for Convocation. He returned last month to meet with students of the new Liberty University Cinematic Arts, Zaki Gordon Center, who were among the first to watch a sneak preview of his upcoming film project.
"Praise the Lord," a two-hour show often featuring celebrity guests and popular religious leaders, has aired each weeknight for more than 30 years.
TBN (Trinity Broadcasting Network) is the world's largest Christian television outreach, with more than 20 international networks reaching every major continent and more than 18,000 television and cable affiliates worldwide. It is America's most watched faith channel, according to Nielsen Ratings. It will celebrate its 40th anniversary in May.
About Liberty University
Liberty University, located in Lynchburg, Va., is the world's largest Christian university. Nearly 100,000 students attend classes on its 6,800-acre residential campus and study in its thriving online education program. Visit http://www.Liberty.edu/Online for more information.