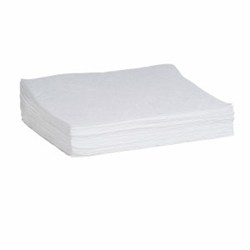 "We transport chemicals between our two plants and by having the static-dissipative pads on board, we feel assured that we can take immediate action in case an accident spill would happen."
Lake Oswego, OR (PRWEB) March 18, 2013
Accidents happen every day in manufacturing plants, transportation of products and even on the water. In order to keep employees, visitors, general population and the natural environment safe, one has to be prepared to handle spills that could cause harm. When volatile fuels or other petroleum-based liquids are being handled, there is a chance of sparking from static. Spillkitcentral.com is now offering Oil-Only Static-Dissipative Pads that are specially treated to dissipate static for safer absorption of petroleum and oil-based liquids without picking up water.
Companies with safety programs will appreciate the easy-to-identify package the pads are packed in. The static-dissipative mat comes in a blue wrapper for quick identification when you need it in emergency situations where static electricity poses a risk. The pads will also assure companies are in compliance with OSHA regulations that require cleanup materials for spills to reduce occupational exposure to hazardous chemicals.
The pads are designed with a unique loose stacked-weave that increases the surface area on the spill. The pad starts wicking on contact to save time in critical situations. First response and proper safety products will keep spill accidents from becoming a hazardous and even deadly situation. The pads work equally well on land or water and they will even float when fully saturated. The pads are ideal for outdoor use as they provide a quick and efficient cleanup to help protect the environment from contamination. The MeltBlown polypropylene fibers are left in their natural hydrophobic state making the pad repel water and float while only absorbing oils and other hydrocarbons.
A plant safety supervisor commented, "We transport chemicals between our two plants and by having the static-dissipative pads on board, we feel assured that we can take immediate action in case an accident spill would happen."
For more information about Oil-Only Static-Dissipative Pads, please visit http://www.spillkitcentral.com or call toll-free (866)777-1360 to speak with a professional representative.