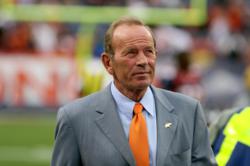 "In Colorado we are struggling to find ways to give all kids a fair chance," said Colorado Governor John Hickenlooper. "No one tries harder than Pat Bowlen—he lobbies for kids, gives them a hand up and a running start toward their futures."
(PRWEB) March 17, 2013
Colorado Governor John Hickenlooper and Denver Mayor John Hancock met at Sports Authority Field at Mile High this week to share their thoughts about Denver Broncos owner and CEO Pat Bowlen, who will receive the Mizel Institute's annual Community Enrichment Award at the Annual Dinner Gala, Wednesday, May 22 at Wings Over the Rockies Air & Space Museum in Denver. Hickenlooper and Hancock will join many of Bowlen's colleagues, friends and current and former Broncos at the event and in a video tribute to Bowlen illuminating his passionate humanitarian commitment to Denver and Colorado.
"Pat Bowlen's passion is not just about fielding a great football team," said Hickenlooper. "He brings a unique intensity to everything he does and that's lead to a Broncos brand that's bigger than football, it has become part of the fabric of the community, and Pat is part of this city's heart and soul."
Bowlen, who has owned the Denver Broncos since 1984, is Chairman of the Board of Denver Broncos Charities, which has donated more than $25 million to charitable organizations in the Denver area since the inception of the fund in 1993. Bowlen's philanthropic work is in large part dedicated to helping children. He has served as the Honorary Chairman of the Colorado Special Olympics for 19 years and as Honorary Chairman of the Stadium Stampede (formerly the Colorado Family Classic) benefitting St. Joseph's Hospital Foundation for 28 years. Under Bowlen's leadership, the Denver Broncos partner with and support numerous causes benefitting children in Denver communities, including Play 60, the NFL's campaign aimed at encouraging kids to be active for 60 minutes a day in order to reverse childhood obesity; HealthONE's Rocky Mountain Hospital for Children; Boys & Girls Club of Metro Denver; and Denver Public School Athletics.
"In Colorado we are struggling to find ways to give all kids a fair chance," said Hickenlooper. "No one tries harder than Pat Bowlen—he lobbies for kids, gives them a hand up and a running start toward their futures."
Mizel Institute's Community Enrichment Award is given annually to an individual who makes outstanding contributions to Denver communities. As the 2013 honoree, Bowlen will join the list of notable past recipients, including Glenn R. Jones, Sharon Magness Blake, W. Dean Singleton, Norman Brownstein, Anna and John J. Sie, and Governor John Hickenlooper.
Mayor Hancock spoke about Mizel Institute Founder Larry Mizel. Now it its 31st year, the Mizel Institute is a nationally recognized institution with a mission to build bridges of understanding between diverse people by engaging, honoring and inspiring through the arts and education.
"Every great city has a great individual who draws on our humanity to create a better place," said Hancock. "That's who Larry Mizel is to Denver."
The Mizel Institute is comprised of two programs. The Mizel Museum is Denver's Jewish art, culture and history museum. The Counterterrorism Education Learning Lab (The CELL) is dedicated to combating the threat of terrorism through citizen education, empowerment and engagement.
The Mizel Institute's Annual Gala Dinner will take place on Wednesday, May 22, 2013, 6:00 PM at Wings Over the Rockies Air & Space Museum, 7711 E. Academy Boulevard, Denver. For information and reservations contact Ellen Premack, Mizel Museum Executive Director, at 303-749-5011 or epremack(at)mizelmuseum(dot)org or visit http://www.mizelinstitute.org.