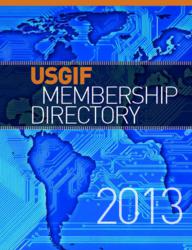 The membership directory is a year-round resource to connect with USGIF sustaining member organizations that provide a diverse array of geospatial products and services
(PRWEB) March 18, 2013
The United States Geospatial Intelligence Foundation (USGIF) released its 2013 Membership Directory in the Q1 issue of the company'sTrajectory magazine.
The directory contains brief descriptions and contact information for all 224 USGIF sustaining member organizations. The directory is also complemented by an online capabilities index, which lists more than 50 products and services the membership organizations provide.
"The membership directory is a year-round resource to connect with USGIF sustaining member organizations that provide a diverse array of geospatial products and services," said exhibitor and membership services manager, Bill Allder III. "A primary goal of the Foundation is to help organizations develop connections with government, military, academia, and industry to grow business, and to find new partners, vendors, and customers. We work hard to create opportunities for our members to succeed in the GEOINT market."
The 2013 USGIF Membership Directory will be available in print at upcoming USGIF events including GEOINTeraction Tuesday, SAR/EO Training, ABI Forum, and GEOINT Community Week. An interactive, online version of the directory can be found at trajectory's website.
About the Directory
The membership directory reflects the 224 USGIF Members at the time of the January 15 print deadline. Questions about USGIF membership should be directed to Jeff Ley, USGIF director of business development, membership and exhibitions, at jeff.ley(at)usgif(dot)org.
About USGIF
USGIF is a non-profit educational foundation dedicated to promoting the geospatial intelligence tradecraft and developing a stronger GEOINT Community with government, industry, academia, professional organizations and individuals whose mission is the development and application of geospatial intelligence to address national security challenges. For more information, please visit http://www.USGIF.org