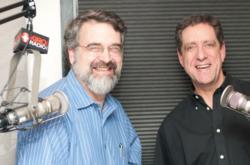 Why these guys? Their list is based on thousands of confidential discussions with employees and bosses. They hear things your employees will never tell you.
SEATTLE, WA (PRWEB) March 18, 2013
The Boss Show, a podcast "for anyone who is or has a boss," has hit the big time.
Bestselling writer and top blogger Jeff Haden has featured the show, and its creators Jim Hessler and Steve Motenko, in his piece about "The Eight Most Common Complaints Employees Have About Their Boss."
Haden's blog posts, for Inc.com and CBS Money Watch, have received as many as 3 million hits. He's a LinkedIn "influencer" ("the only time I'll appear on the same list as Richard Branson," Haden writes in his typically tongue-in-cheek style) and author of nearly 40 nonfiction books.
Boss Show co-hosts Hessler and Motenko created the weekly podcast two years ago to offer "workplace wisdom with heart and humor." The show is not strictly about leadership; it's about surviving, even thriving, in the workplace.
"Work is a microcosm of life," said Motenko. "Since we spend nearly half of our waking hours there, it makes sense to make our experience at work as satisfying as it can be." This, he said, is the purpose of The Boss Show.
The podcast addresses a different topic of the workplace experience each week. The co-hosts often engage in lighthearted, slightly irreverent banter, both between themselves and with their guests.
The eight "most common complaints" listed in Haden's blog post – My boss:
1. Micromanages me
2. Doesn't listen
3. Doesn't want to have his/her opinions and ideas challenged
4. Doesn't follow through on promises
5. Assigns deadlines without considering what's on my plate
6. Doesn't have time for me
7. Doesn't give helpful feedback about my performance
8. Is disorganized and reactive
For more information on The Boss Show: http://www.TheBossShow.com