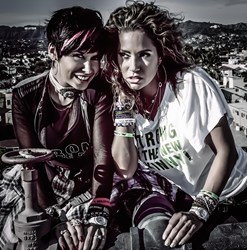 The Fitness Model Factory is continuing to explode and expand, after the success of the Los Angeles 1 Day Mega Event held by Bikini Mommy Online. Its the platform for women to grow, connect, and rediscover their passions.
Los Angeles, Ca (PRWEB) March 16, 2013
Choose your adventure, claim your dreams, unleash your potential - was the resounding message of the second annual JNL Fitness Model Factory event hosted in a private Hollywood studio where five, yes, only 5 finalist were presented with an opportunity to not only enjoy a white-glove media production experience, but they were also able to learn from the best in the industry on how to get noticed in the crowded, noisy, super- saturated & shamefully forgetful universe.
Jennifer Nicole Lee (JNL), international super fitness celebrity, actress, best selling author, motivator and a business mogul had recently announced her resignation from BSN to be able to fully focus on representing JNL Fusion coaching by Body FX business opportunity, as well as expanding her JNL Worldwide brand. JNL Fusion is a revolutionary workout method that's taking over the fitness world by storm with its unique method of "super spiking" your metabolism while burning fat and building sleek, sexy muscle at the same time.
Marina Aleksintser, JNL's long-time fan and supporter, founder of BikiniMommyOnline.com, JNL Fusion Master Certified Trainer and a future Body FX & JNL Fusion coach, had been selected to represent JNL Fitness Model Factory franchise in Los Angeles, where she is able to present all who had been hand-selected to participate at the event with an amazing opportunity to explore their true talents and gifts and to equip them with tools and how-to's on how to become not only unforgettable, but unmistakable as they grow and develop their personal brands as specialists in their fields of their expertise.
JNL had surprised the finalists with showing up B-I-G, as she always does - with her super talented stylist, Marli Resende, as well as her business manager extraordinaree, Claude Taylor, aka Mr. Big - both were instrumental in making the Fitness Model Factory Los Angeles event unforgettable for all who had applied and were the lucky few to had been selected to attend.
Marina Aleksintser presented the selected few VIP Fitness Model Factory stars with an opportunity to learn all about "showing up authentically" and "owning your gifts" when it comes to crafting a truly unforgettable personal brand. A husband-and-wife team, Gary Aleksintser (aka Mr. Alexander), founder and president of G. Alexander Enterprises, Inc, Interactive Education Concepts. Inc., National Point and Insurance Reduction Inc., Gary Alexander LLC, as the list goes on and on was there to not only support his wife, Marina, but to also direct the production set and take unforgettable photographs and videos of the Fitness Model Factory stars.
With best hair, makeup and styling services team BikiniMommyOnline brought on board for the event, Fitness Model Factory stars ended up walking off the one-day mega production event with a blue-print to ensure their future personal and professional successes; outlining their true gifts, vision, and, most importantly, their "mystery sauce", that "hidden talent", that "unspoken dream" as they were now embarking on a new journey of "CLAIMING THEIR DREAMS!"
Find out more about Jennifer Nicole Lee at http://jennifernicolelee.com
Join Marina Aleksintser's team and become a JNL Fusion Coach or an independent Body FX rep at http://www.BikiniMommyOnline.com