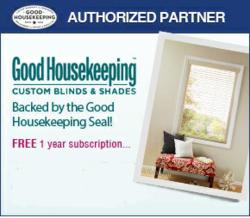 We are excited to offer the free subscription to Good Housekeeping magazine with orders." said Nate Kennedy, Select Blinds VP of Operations. "I want our customers to benefit from the authorities on decorating, DIY tips, and interior design ideas.
Phoenix, AZ (PRWEB) March 16, 2013
With 125 years of experience in decorating, organizing, and product advice, the Good Housekeeping team members are experts at helping consumers discover savings and smart home solutions. This is evident in their magazine, and all products they create with the Good Housekeeping Seal of Approval. For a limited time, customers who purchase Good Housekeeping custom blinds and shades from Select Blinds will receive a free 1 year subscription to Good Housekeeping Magazine with their purchase. Enjoy the high quality design and energy saving features of the Good Housekeeping Blinds and Shades collection while opening your eyes to new smart home solutions and values through the magazine subscription. A subscription postcard will be mailed with every Good Housekeeping blind or shade order from SelectBlinds.com.
It is springtime, and temperatures outside are rising across the country. Home savvy consumers are shopping for energy efficient products that will lower yearly energy costs. Good Housekeeping custom blinds and shades offer energy efficient features that filter or blackout light and offer UV protection from the damaging rays of the sun. Energy efficient window treatments insulate windows from the heat generated by the sun, keeping temperatures inside your home cool. Choosing the window coverings with energy efficient features translates to significant energy savings for the home owner, as air conditioners do not need to use as much energy to keep the home cool.
Not all windows and doors are the same size, which means that blinds and shades may need to be custom cut to fit windows correctly. Many companies will come to consumer homes to measure and install new window blinds or shades, but this can add significantly to overall purchase costs. Consumers can save significant money off retail store prices by purchasing custom fit blinds online from SelectBlinds.com. Knowing that many consumers are not confident in their ability to measure windows correctly or unsure of how to install blinds and shades properly, SelectBlinds.com offers easy measuring and installation guides and videos on the website. Sometimes, measurements are incorrect and ordered window coverings may not fit right. For this reason, Select Blinds offers their F.I.T. insurance protection on most Good Housekeeping products. With the F.I.T. insurance, in the unlikely event that windows are measured incorrectly, the company will trim or exchange the product at no additional cost. In addition to this protection, all products sold by Select Blinds come with a 90 day satisfaction guarantee and free shipping.
The Good Housekeeping Custom Blinds and Shades Collection sold by Select Blinds, includes a large selection of cellular shades, roman shades, roller shades, wood and faux wood blinds, and panel tracks. The window coverings come in a variety of quality materials, fabrics, colors, sizes, and features. Good Housekeeping custom window coverings from SelectBlinds.com also offer child safety features like cordless lift systems that conform with C.P.S.C. child safety guidelines.
"We are excited to offer the 1 year free subscription to Good Housekeeping magazine." said Nate Kennedy, Select Blinds VP of Operations. "I want our customers to be able to see what we already know about the GH brand; that they offer some of the best information on decorating, DIY tips, and interior design ideas."
Headquartered in Gilbert, AZ, Select Blinds is focused on providing a large selection of blinds, window shades and other windows coverings to its customers. SelectBlinds.com offers competitive pricing, secure and convenient online shopping, live assistance, customer satisfaction guarantees, and strong warranty programs on all of its products. For more information, please visit http://www.SelectBlinds.com.