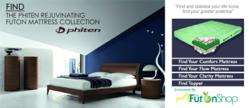 Our new line is a great way for supporters of Phiten to bring the Phiten technology into their sleep environment.
(PRWEB) March 19, 2013
Phiten®, the innovator and original maker of the titanium necklace and precious metal-infused sports accessories, has entered into an exclusive national licensing agreement with The Futon Shop® to design and distribute a new line of Rejuvenating Futon Mattresses.
The Futon Shop and Phiten's new collection of Rejuvenating Futon Mattresses are a great choice to experience the Phiten technology and as an organic solution to your sleep environment. These organic and green futon mattresses will be organized into 3 separate mattress lines Find, Empower, and Renew. The concept of the Find Collection is designed to support women with an active lifestyle. The Empower Collection is designed for men with an active lifestyle while the Renew Collection is designed to target those people who are more conscious of maintaining a recuperative state.
The Futon Shop line joins Phiten's roster of official lines, which also includes the MLB Authentic Collection, NHL Collection, and the NBA Collection. Phiten's growing popularity among athletes and sports enthusiasts has allowed the company to expand into these new areas while The Futon Shop has been the leader of the organic futon mattress movement here in the United States.
"We are excited to officially introduce the Phiten brand to our loyal customers," said Suzanne Diamond, owner and CEO of The Futon Shop. "Our new line is a great way for supporters of Phiten to bring the Phiten technology into their sleep environment."
 
About Phiten®
Phiten is a leading designer and manufacturer of sports lifestyle accessories and produces necklaces, bracelets, supports and apparel developed for active, health-conscious living. Phiten's technology centers around Aqua-Metals, which are incorporated into every product. Phiten is worn by elite athletes all over the world, but is truly for anyone inspired to live a healthy lifestyle. Phiten is a license partner and produces official merchandise for the NBA, NHL, and MLB.
 
About The Futon Shop®
The Futon Shop is a vertically integrated retailer that manufacturers over 33 organic and green futon mattresses from start to finish. The company dates back to 1976 led by Suzanne Diamond and her team of specialists dedicated to producing the best eco-friendly furniture and bedding. Their mission is to provide the best eco-friendly/chemical-free Organic and Green furniture for American families available today.