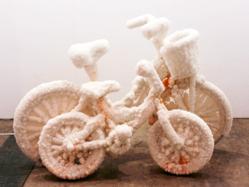 (PRWEB) March 17, 2013
The Art of Shabbat: Eye on Contemporary Israeli Art will be held Friday, April 19, 6:30 PM at the Mizel Museum, 400 S. Kearney Street, Denver. The Museum's Curator, Georgina Kolber, will give a presentation and lead a discussion about contemporary Israeli art, drawing on her experiences during the museum's successful October 2012 Art & Culture in Israel group tour, when travelers met with established and emerging Israeli artists, including David Moss, Shai Azoulay, Andi Arnovitz and Sigalit Landau.
The museum's Art of Shabbat program is a community Shabbat dinner accompanied by discussions about art as it relates to culture, history, current events and multicultural traditions. The evening includes candle lighting, Shabbat prayers and a kosher vegetarian dinner.
Price is $28 for museum members and $32 for non-members. Members enter discount code SHBBTISRL at checkout. Register online at http://www.mizelmuseum.org/eye-on-israeli-art/.
About the Mizel Museum
The Mizel Museum Denver's Jewish art, history and culture museum. Exhibits, events and educational programs offer interactive experiences that promote community, understanding and multiculturalism. The Museum is located at 400 S. Kearney Street, Denver, where visitors can tour the permanent exhibit, 4,000 Year Road Trip: Gathering Sparks, a dynamic journey through art, artifacts and digital media that narrates and illuminates Jewish history and culture. For more information visit http://www.mizelmuseum.org or call 303-394-9993.