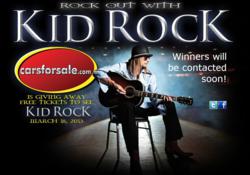 Carsforsale.com appreciates the support of the regional community and we want to reward our site visitors with a fun night out.
(PRWEB) March 18, 2013
America's favorite car shopping website, Carsforsale.com was excited to name the winners of the "Rock Out With Kid Rock" contest today. Carsforsale.com gave away seven pairs of concert tickets to ecstatic fans to the nearly sold out Kid Rock concert in Sioux Falls, South Dakota on March 18, 2013. The winners were chosen from a random drawing of contestants who registered on Carsforsale.com from South Dakota, Iowa, Nebraska, and Minnesota.
The winners will have the chance to rock with musician Kid Rock at the Sioux Falls Arena thanks to Carsforsale.com giving away tickets. Kid Rock's 'Rebel Soul' world tour, in support of his recently released album bearing the same name, will also include performances from Twisted Brown Trucker band with guests Buckcherry and Hellbound Glory.
Carsforsale.com was thrilled to be able to offer this contest to the region as a thank-you for their continued support of Carsforsale.com as Sean Coffman of Carsforsale.com stated, "Carsforsale.com appreciates the support of the regional community and we want to reward our site visitors with a fun night out."
About Carsforsale.com:
Carsforsale.com created in 1999 and headquartered in Sioux Falls, South Dakota and is one of the fastest-growing and most popular auto classified websites. Carsforsale.com offers a fast and effective way to connect buyers with sellers of cars. Carsforsale.com reaches millions of unique visitors each month and is a privately held company.
###