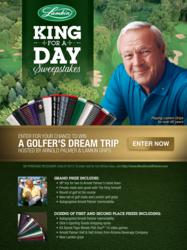 "Lamkin is extremely proud of our partnership with Arnold Palmer and we're beyond excited to offer one lucky winner this amazing experience," said CEO Bob Lamkin
San Diego, CA (PRWEB) March 18, 2013
Lamkin Corporation, a leading manufacturer of premium golf grips, is very proud to announce the launch of their KING FOR A DAY sweepstakes promotion. The centerpiece of the royalty-worthy sweepstakes features a VIP trip for one lucky winner, and their guest, to meet Arnold Palmer in his hometown. In addition to the personal meeting and club tour, the package includes a new set of Callaway golf clubs, new Lamkin golf grips, autographed Arnold Palmer memorabilia and a round of golf at his hometown course.
Beginning March 18, consumers can register in the sweepstakes at MeetArnoldPalmer.com. There are three simple ways to earn entries: 1.) register up to once per day with a valid e-mail address; 2.) complete Lamkin's interactive grip selector tool; and/or 3.) enter exclusive codes found on the KING FOR A DAY display in the grip section at select golf retailers including Dick's Sporting Goods, Golf Galaxy, Golfsmith, Edwin Watts and PGA Tour Superstores. The grand prize winner will be selected at the end of June, 2013.
"We are incredibly honored to sponsor this sweepstakes with golf's most beloved and illustrious legend," said Lamkin CEO, Bob Lamkin. "Lamkin is extremely proud of our partnership with Arnold Palmer and we're beyond excited to offer one lucky winner this amazing experience."
Arnold Palmer has been playing with Lamkin grips for more than 60 years and has been a company spokesman since 1997. "Lamkin grips have been on my clubs throughout my career and carried me through some very memorable moments," said Palmer. Despite not playing as frequently, he continues to use Lamkin grips and has always been extremely vocal about the importance of the golf grip. "The grip is the only connection a golfer has to their clubs and hitting a golf ball."
To put the once-in-a-lifetime sweepstakes opportunity into proper perspective, consider the awe-inspiring accomplishments of Arnold Palmer. A winner of seven major championships during his prolific professional career on the PGA Tour which started in 1954, Palmer won four Masters (1958, '60, '62 and '64), back-to-back British Open championships (1961 and '62), and a U.S. Open title in 1960. Arnold Palmer amassed 92 worldwide championships during his professional career. He is widely considered one of the greatest players and golf ambassadors in the history of the game. His immense contributions, both as a golfer and humanitarian, were recently acknowledged with a Congressional Gold Medal. During the award ceremony, Congressional House Speaker John Boehner called Arnold Palmer a "model of integrity, passion and commitment."
In addition to the grand prize, Lamkin is offering up dozens of first and second-place prizes that will include Arnold Palmer autographed memorabilia, a golf shopping spree at Dick's Sporting Goods, EA SPORTS Tiger Woods PGA TOUR® 14 video games, Arnold Palmer Half & Half drinks from Arizona Beverage Company and, of course, Lamkin golf grips.
NO PURCHASE NECESSARY. A PURCHASE WILL NOT INCREASE YOUR CHANCES OF WINNING. LEGAL RESIDENTS OF THE 50 UNITED STATES (D.C.) 18 YEARS AND OLDER. VOID WHERE PROHIBITED. Sweepstakes ends 6/18/13. For Official Rules, prize descriptions and odds disclosure, visit http://www.meetarnoldpalmer.com.
ABOUT LAMKIN GRIPS
Lamkin Grips' golf heritage dates back to 1925 when founder Elver B. Lamkin began manufacturing the first leather golf grips. Today, the family-owned business delivers the industry's best assortment of technologically advanced, performance-enhancing golf grips that continue to earn loyal customers around the world. With the most sizes, styles, patterns and materials available, Lamkin golf grips provide custom-fit performance benefits to every golfer, regardless of age, gender, handicap or rounds played.