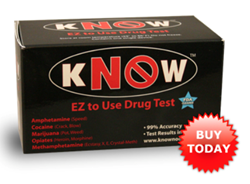 "All too often, parents had no idea that their teenagers were using drugs because they never took the time to communicate with their kids. Parents need to KNOW."
Tampa, FL (PRWEB) March 18, 2013
Douglas Chinchar is on a mission to get his product, the KNOW Drug Test, into the hands of as many parents as possible to increase family communication and to help save teen lives. The goal of his crowdfunding project on ClickStartMe.com is to give away 50,000 of the invention he calls "a conversation starter that can save your teenager's life." Chinchar, an educator, coach and concerned parent, developed the KNOW test in a magnetized box specifically to help other parents jumpstart a conversation about drugs and alcohol with their kids, by sticking the black box directly on the family refrigerator.
Chinchar says that his goal is not to drug test teenagers, but rather to have the black KNOW box prominently displayed in the house as a deterrent, constant reminder and a conversation piece to spur on parental-teenager conversation. "Studies show that when parents talk with their teenagers about drugs, their kids are 42% less likely to become drug users," Chinchar says. "If I can get 50,000 families talking to each other, statistically, that keeps more than 20,000 kids off drugs. Think about how many lives that can save."
While Chinchar knows that communication between parents and kids is the key to saving lives, he notes, "All too often, parents had no idea that their teenagers were using drugs because they never took the time to talk to each other." Or, parents are not sure how to start that important conversation." The magnet that's built into the KNOW Drug Test box lets parents put it on their refrigerator, which gives them an easy way to bring up this crucial topic. Chinchar assures parents, "Put Know on your refrigerator and you will start a conversation with your kids. I guarantee it."
While Chinchar hopes parents never actually have to test their teenagers for drugs, he explains that the FDA-approved KNOW kit has highly accurate tests for amphetamines, cocaine, marijuana, methamphetamines and opiates. Chinchar is no industry novice. In addition to being an educator and a coach, Chinchar is Vice President of Sales and Training for a leading national employment drug testing company, S1-Safety 1st.
Chinchar also says that the impact of a KNOW Drug Test on the refrigerator goes far beyond the immediate family. Not only will kids see it every time they walk past or open the refrigerator door giving them a constant reminder that they shouldn't use drugs, but also when their friends visit, they'll see it too, prompting conversations in their homes. Chinchar has also heard from many teenagers who have thanked him for providing them an excuse to avoid peer pressure. "When their friends see Know on the fridge, they know that this family might test their son or daughter," Chinchar points out. "Which gives that teenager a reason to 'just say Know.' They tell their friends they cant do drugs, because their parents have Know and might test them when they get home."
ClickStartMe is Chinchar's chosen platform to give away as many of the KNOW drug tests as possible. His goal is to get the KNOW message on 50,000 refrigerators across the country in 2013. He's already manufactured the KNOW test kits – they're inside their magnetized black boxes and ready for shipment. By making a donation to his giveaway crowdfunding project on ClickStartMe, supporters can send 5, 10, or 25 kits anywhere they want – such as to schools, youth groups, churches or individuals. To encourage businesses to donate, Chinchar is also willing to travel to a donor's location anywhere in the continental Unites States to speak to their chosen group and distribute KNOW Drug Test kits in the name of corporate sponsors.
Chinchar is determined to raise awareness through his KNOW Drug Test and has a heartfelt message for potential supporters: "I KNOW that together with your financial support and by helping me spread the word, we can do this, and we can save many lives, and many families. Help me just say KNOW to drugs."