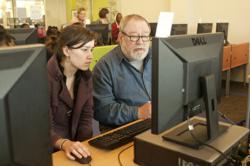 "Having access to digital technology and understanding how to use it can help our residents get better jobs and further their education, or simply provide an easier way for them to stay in touch with relatives and pay their bills," said Mayor Foxx.
Charlotte, NC (PRWEB) March 21, 2013
Today, Thursday, March 21, Charlotte will play an integral role in the launch of a nationwide public awareness campaign called "EveryoneOn," from Connect2Compete, a Knight Foundation-funded nonprofit that is working to help close the broadband adoption gap. Charlotte Mayor Anthony Foxx and Mecklenburg County Commission Chairman Pat Cotham have proclaimed March 21 the First Annual Digital Media Literacy Day (http://ow.ly/jb7sD).
"Having access to digital technology and understanding how to use it can help our residents get better jobs and further their education, or simply provide an easier way for them to stay in touch with relatives and pay their bills," said Mayor Foxx. "In today's hyper-connected world, digital technology is more important than ever, and the City of Charlotte is committed to working with Mecklenburg County and our local partners to ensure our residents are able to take advantage of all the benefits it offers."
"The costs of the digital divide are clear and documented," said Zach Leverenz, CEO of Connect2Compete. "Digital literacy skills are the key to education and economic opportunities for current and future generations. We're thrilled that Charlotte has joined in this nationwide effort to ensure that all Americans have the tools they need to compete in the digital economy, regardless of age, race, geography, income or education level."
A recent Marketwise survey of Mecklenburg County adults found that one in five do not have Internet access from home, and one in three do not have a smart phone. Roughly one hundred million Americans do not have a broadband connection at home, and 62 million do not use the Internet at all.
What does EveryoneOn mean for Charlotte? Program partners in Charlotte will offer access to free digital literacy training that will provide the opportunity for people to learn basic skills such as how to use a computer, navigate the web, or take actions like preparing and uploading an online resume, or processing a basic Internet transaction. These partners include Charlotte Mecklenburg Library, Goodwill Industries of the Southern Piedmont, the Knight School of Communication at Queens, Project L.I.F.T. and Urban League of Central Carolinas. The programs will be available at Digital Charlotte (http://www.digitalcharlotte.org), a new website from the Knight School of Communication at Queens that connects groups promoting digital and media literacy, including volunteers, students, the schools, the libraries, city government, local industry and local community service providers.
"Our partners in Charlotte have come together in an unprecedented collaboration," said Susan Patterson, the Charlotte Program Director for Knight Foundation who helped bring the partners together. "Today is just the beginning of their long-term effort to help more Charlotte residents use digital technology to improve their lives."
To help drive awareness of the free digital skills trainings, Connect2Compete and the Ad Council are also launching the nationwide public service advertising (PSA) campaign, "EveryoneOn," created pro bono by Y&R. The Ad Council is a nonprofit organization known for developing and delivering critical messages to the American public, such as Smokey the Bear's "Only You Can Prevent Forest Fires" and "Friends Don't Let Friends Drive Drunk." The "EveryoneOn" campaign will include television, radio, and digital (mobile and Web) advertisements, as well as a separate social media campaign designed to communicate the value of digital literacy and drive people to learn more at http://www.everyoneon.org or through the 1-855-EVRY1ON help line. The Ad Council is distributing the PSAs to media outlets nationwide and they will run in time and space entirely donated by the media. Consumers can follow the campaign on Facebook at facebook.com/EveryoneOn or through Twitter at twitter.com/everyone_on. To view the PSA, visit EveryoneOn.adcouncil.org .
For more information on the campaign and list of free digital skills training opportunities in your area, call 1-855-EVRY1ON. Consumers can also visit http://www.EveryoneOn.org, which will include a zip code locator tool to find digital literacy training classes and links to best-in-class online training resources. In coming months, Residents of Charlotte may also be eligible for programs that provide affordable Internet services and computers for low-income residents. For information about upcoming program availability and eligibility, residents can visit Connect2Compete.org.
# # #
About Connect2Compete
Connect2Compete is a national nonprofit organization bringing together leaders from communities, the private sector, and leading foundations. Through its programs and the power of technology, Connect2Compete will improve the lives of Americans – regardless of their age, race, geography, income, or education level. The use of technology to access educational content is necessary to ensure future generations can compete in the global economy and to prepare them for the 21st century workforce. Connect2Compete will help Americans access technology through free digital literacy training, discounted high-speed Internet, and low-cost computers. For more information, please visit Connect2Compete.org.
Local Partners and Events (see http://www.digitalcharlotte.org local event listings)
Digital Charlotte connects groups promoting digital and media literacy, including volunteers, students, the schools, the libraries, city government, local industry, and local community service providers. A broad range of agencies and community leaders have partnered for EveryoneOn and beyond to provide digital and media literacy training and activities throughout the day, including the Charlotte Mecklenburg Library, Goodwill Industries of the Southern Piedmont, Knight School of Communication at Queens , Project L.I.F.T. and Urban League of Central Carolinas. digitalcharlotte.org