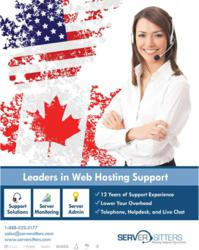 The survey examined detailed information from clients across the United States regarding their experiences, and examined wait times, customer service satisfaction levels, and rated effectiveness of live chat and help desk support
Seattle, WA (PRWEB) March 15, 2013
Over the last several months, leading North American outsourced hosting support provider Server Sitters, has enjoyed unprecedented growth. In early February, Founder and CEO Adam Gallant initiated an internal survey of clients, in an effort to gather more detailed reviews, and ultimately discover the reason for such a huge surge in incoming new clients.
The survey examined detailed information from clients across the United States regarding their experiences, and examined wait times, customer service satisfaction levels, and rated effectiveness of live chat and help desk support. The results were based on information collected in the month of February 2013.
Server Sitters scored extremely well in virtually every facet of operations. CEO Adam Gallant explained, 'We were thrilled to find out through this survey that we are exceeding customer expectations on all fronts, and positioning Server Sitters as the leader in our industry.'
One of the first questioned posed to clients was 'What is the most important thing to your business in outsourced support' and several clients replied, 'English speaking customer support representatives'
Server Sitters has an experienced team of support representatives that are fluent in English as a first language, and also offer a range of bilingual services including French & Spanish support.
Server Sitters management concluded that one of the primary reasons for their recent surge in growth was due to expanded marketing and a media blitz.
Several incoming Server Sitters clients explained that they were impressed with their rapid response times and reliability, and had left another outsourced support provider for a variety of reasons.
CEO Gallant went on to explain, 'Staff and management at Server Sitters are fully aware that our clients demand the very best in support services, and we are constantly looking for ways to improve every facet of operations from start to finish'
Server Sitters will continue its aggressive global expansion strategy, and guarantees that their clients enjoy the very best level of services available in the outsourced web hosting support industry.
If a business owner has the client handling processes designed, but needs to ensure the client's issues are at the right place at the right time, Server Sitters support packages are the best option. Server Sitters offers customer routing and ticket issue creation from their call desk 24/7. So business owners can rest assured that no matter when an issue arises, someone will be on stand by to solve the issue, and direct the inquiry to the correct person, and fix it as quickly as possible.
Server Sitters will work with customers to create the most streamlined process possible so that business owners are provided with the most efficient 24/7/365 support available.
To find out more on their latest technical support plan offerings by Server Sitters, please visit their official website at: http://www.serversitters.com