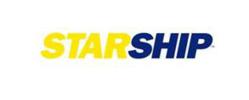 PanatrackerGP and StarShip simplify the GP order fulfillment process to create a tightly integrated workflow to connect the pick, pack and ship process, said Caroline Walsh, VP of Sales & Marketing, V-Technologies, LLC.
Cheshire, CT (PRWEB) March 19, 2013
V-Technologies, LLC., a leading provider of integrated shipping software solutions for Microsoft Dynamics customers, and Panatrack, Inc., a leading software development firm specializing in systems for tracking inventory, assets, and activities, today announced a strategic technology partnership. The combined PanatrackerGP and StarShip solutions bring together industry leaders to offer a complete warehouse management solution for Microsoft Dynamics GP customers. PanatrackerGP adds barcode technology and mobile computers to efficiently pick and pack orders. StarShip takes those details to complete the shipping process, integrating to parcel and LTL carriers such as UPS, FedEx, USPS and Con-way. The ability to deliver these capabilities without having to customize Microsoft Dynamics GP simplifies implementation and upgrades.
"StarShip shipping software by V-Technologies, LLC extends the capabilities of PanatrackerGP by offering automated shipping and providing a cost-effective easy-to-implement solution to capture, verify and process shipments. We're excited to offer this additional functionality to our clients and believe V-Technologies, LLC. StarShip shipping software offers an unmatched level of industry expertise and superior technology model that will go a long way to maximize our clients' Microsoft investments," said Michael Burnham, President, Panatrack.
PanatrackerGP Inventory for Microsoft Dynamics GP adds barcode data capture for inventory transactions with direct integration to the ERP. The solution extends the functionality of Microsoft Dynamics GP to handheld mobile scanners for receiving, inventory moves, stock counts and order picking to add efficiency by eliminating duplicate entry and capturing transaction details at the point they occur..
StarShip shipping software offers a turnkey approach to processing small parcel and LTL shipments with Microsoft Dynamics GP. The bi-directional interface streamlines the entire workflow to gain immediate efficiencies in shipment processing, accounts receivable and customer service for improved productivity and cost savings.
V-Technologies is exhibiting at Convergence 2013 and will be demonstrating StarShip (and ShipGear) for Microsoft Dynamics GP in Expo Booth #357. Panatrack will be exhibiting as a Bronze Sponsor and demonstrating its PanatrackerGP solution in Expo Booth #643.
About V-Technologies:
Founded in 1987, V-Technologies, LLC is a shipping software development company who has developed a selection of shipping software solutions to meet the growing demand for integrated shipping. StarShip™ and ShipGear® are the two flagship shipping software products. V-Technologies, LLC offers shipping software interfaces with Sage Software's Sage 100 ERP (formerly MAS 90 and MAS 200), Sage 500 ERP, Sage 50, Microsoft Dynamics GP, Microsoft Dynamics AX, Microsoft Dynamics NAV, Everest, Exact Macola, QuickBooks, and Counterpoint. Additional information about V-Technologies and its solutions is available at http://vtechnologies.com
About Panatrack:
Panatrack has been in business since 1996 and began its life in the field of operations consulting and software development. Today Panatrack is a software development firm specializing in systems for tracking inventory, assets, and activities. Using data-capture technologies such as bar code, RFID, and wireless mobile computers, the company creates pre-packaged and custom solutions to track comprehensive details about the real-time transactions that are critical to efficient business operations. Headquartered in Delafield, Wisconsin, Panatrack's customers span the range from large corporations to very small operations. Additional information about Panatrack and its solutions is available at panatrack.com.