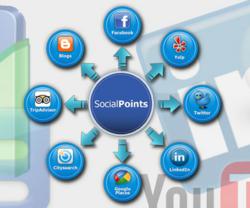 If you give someone a hand-up and that person turns around and does the same for others then your gift keeps on giving. Shelly is the perfect example of someone basically 'paying it forward'.
Las Vegas, NV (PRWEB) March 18, 2013
When SocialPoints' founder and CEO, Joe Ruiz, heard the story of Beacon of Hope Charities founder Shelly Gilhooly and how she went from being in need of charitable assistance for herself and her four daughters to a position where she could help others, Joe quickly contacted Shelly to see how his firm could help. "As I do most every morning I was perusing our clients news feeds and social media messages when I came across Shelly's story. What first struck me was she is helping the less fortunate and downtrodden of Las Vegas. Something you don't really think about when you are visualizing Las Vegas and all its glitz and glamor. The other thing I was moved by was how Shelly, with the charitable assistance of others, was able to turn her life around and now is able to provide a better life for her daughters. Most importantly, I really connected with how she is now helping others in need so hopefully they too can achieve what Shelly has accomplished." says Joe Ruiz.
The change for Shelly began when she decided to take the initiative of improving her life and started a business. During this time she developed online marketing skills while providing for her family - a dream made possible by the charitable assistance she received as her business grew. Once Shelly's business became profitable she knew she wanted to give something back and help make a difference in others' lives.
Shelly founded Beacon of Hope Charities to do just that. Beacon of Hope Charities' mission is to go into communities and provide aid for Nevada's homeless and hungry, for families and people in need, for families affected by unforeseen events: fire, accidents, domestic abuse etc.), for elderly and assisted-living tenants and for local veterans. "My staff and I are very excited to have SocialPoints managing our message across the various social media networks. I like that SocialPoints shares our passion in helping those who are in need" says Shelly.
Mr. Ruiz has one final comment about Miss Gilhooly: "If you give someone a hand-up and that person turns around and does the same for others then your gift keeps on giving. Shelly is the perfect example of someone basically 'paying it forward'."