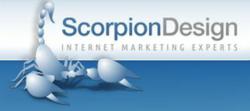 Los Angeles, CA (PRWEB) March 18, 2013
On March 17, 2013, Team Stand Up to Cancer (SU2C) participated in the ASICS LA Marathon. Their goal was simple: to help rally support for cancer research. Almost everyone knows someone who has been affected by cancer, and it's no surprise when statistics show that cancer kills 1,500 Americans each and every day. Team SU2C made it their mission to use team participant's favorite races, such as the LA Marathon, to raise money that could change these statistics by doing exactly what their name suggests – standing up to cancer.
Scorpion Design, Inc., an Internet web design & marketing company, is known for their community outreach and philanthropic efforts. Through their charitable branch, Scorpion Cares, they make both monthly and annual efforts to help reach out and give back, both to the local community and the global community at large. This is done through everything from donating to charities to helping one lucky small business each year get a leg up by providing them with a professionally designed website and hosting free of cost.
So when one of Scorpion's own, Ben Fiandaca, joined Team SU2C to participate in this year's LA Marathon, the team did not hesitate to support the cause. Individually, countless employees opened up their wallets to help him reach his goal of $500. Through their efforts, as well as the generosity of other supporters, Ben was able to not only reach his goal, but surpass it by raising 444% of the total goal. In total, Team SU2C was able to raise just under $7,000 to help achieve their goal of supporting cancer research.
"The whole experience was amazing," said Ben. "From the get-go there was an outpouring of support from Scorpion. People from all over the company showed their support through donation and encouragement."
This, however, is not the first time that Scorpion has supported their employees as they used a marathon to raise money for a good cause. Just last year, they also supported employee Devon Hopper as he worked to raise funds for Flintridge Guild of Children's Hospital by participating in The North Face Endurance Challenge Series. Devon was able to raise 148% of his goal, with much of the support stemming from Scorpion.
"The best part about working for Scorpion is knowing that you work for a company that has an interest in helping the community," said Devon. "Last year I raised over $3,000 dollars for a charity for children and Scorpion submitted the largest donation by far. The company is so incredibly generous when it comes to this, and it is clear that Scorpion Design really has a passion for helping people."
Scorpion is proud of their employees and hopes to continue to support them in future charitable endeavors such as this one. Not only do they plan on continuing to increase their outreach through their Scorpion Cares branch, but they hope to find other ways to open up avenues of support, and make charitable outreaches available for all of the generous employees who compose their team.
"When I finished the race I was elated with having accomplished such an arduous long race and finishing at a personal best time," said Ben. "The best part, however, was raising the money and support for such a great charity, as well as seeing what a great company I work with. It amazes me that the same commitment that goes into our everyday work also goes into getting behind a great cause like Team Stand Up 2 Cancer."
Scorpion Design, Inc. is an Internet web design & marketing company for lawyers and law firms nationwide. Known as being Internet marketing experts, they are able to help legal professionals grow their practice online through award-winning design work, SEO & marketing expertise, and bleeding edge technology. They also have the awards to back it up, having won everything from the 2012 WebAward for Best Legal Website to the 2011 Internet Advertising Competition Award for Best Legal Website. If you would like to learn more about the company, and how they can help you, please visit them online at http://www.scorpiondesign.com.