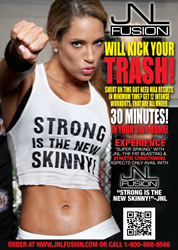 Jennifer Nicole Lee's JNL Fusion bikini beach workout has been condensed into a 3 minute long segment that will be featured in E!'s 30 minute special Celebrity Guide to Miami. JNL's workout will air following the season finale Kourtney and Kim Take Miami.
(PRWEB) March 17, 2013
On March 6th, Jennifer Nicole Lee was filmed by the E! Network film crew on the world famous South Beach where she often is spotted training, working out, doing a photo shoot, or frolicking in the ocean water in a bikini by the paparazzi. This bestselling author and highly sought after celebrity trainer will be featured on the E! Network show called "Celebrity Guide to Miami ". JNL Fusion is the hottest fitness workout method to date and has been coined "the workout of the century". On this episode, E! Network channel highlighted Jennifer Nicole Lee's top celebrity training techniques, as JNL trained the host Leah Miller. JNL gave a brief tutorial on the South Beach, using her tried and true JNL Fusion workout method, focusing on how to get a bikini-ready body. The E! host got a special treat by JNL training her with some of her celebrity-tested workouts that incorporate the natural beach surroundings.
Jennifer Nicole Lee's JNL Fusion bikini beach workout has been condensed into a 3 minute long segment that will be featured in E!'s 30 minute special Celebrity Guide to Miami. JNL's workout is slated to air following the season finale of Kourtney and Kim Take Miami on E! On April 7th. E! also is considering calling the show 'Living Miami', which will premiere on E! Network Canada April 7th, following the finale of Kourtney and Kim take Miami.
E! Canada, which brings in incredible ratings on our channel more than 6 million homes in Canada.
JNL Fusion has taken the celebrity training scene by storm with its worldwide success, transforming physiques into those of super fitness models whose bodies are coveted on major fitness magazine covers.
For more info on Fitness Celebrity Jennifer Nicole Lee, please visit http://www.JenniferNicoleLee.com
For more info on her workout method, visit http://www.JNLFusion.com