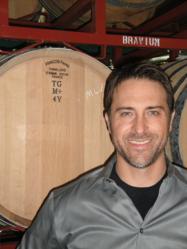 I am very happy that these important causes continue to benefit thanks to Bravium's success. I am also gratified that this year's donations are 50-percent higher than last year's
San Francisco, CA (PRWEB) March 16, 2013
Bravium Winery's proprietor and winemaker Derek Rohlffs announced more than $15,000 in cash and wine donations to charities from his Sip&Give campaign this week.
Current Sip&Give beneficiary charities include the Bonnie J. Addario Lung Cancer Foundation, Community Gatepath, Leukemia & Lymphoma Society, Peninsula Humane Society, and Slow Food USA.
"I am very happy that these important causes continue to benefit thanks to Bravium's success. I am also gratified that this year's donations are 50-percent higher than last year's," Rohlffs said.
A portion of the proceeds from the sale of all Bravium and artisan wines - from its vineyard-designated pinot noir and chardonnay to its proprietary White Wedding white wine and Lucky red wine - fund Sip&Give. Donations are made to each charity based upon the percentage of votes it receives at sipandgive.com.
More than 9,600 individual votes were received during the most recent campaign, with the Bonnie J. Addario Lung Cancer Foundation and Peninsula Humane Society leading the voting.
Bonnie J. Addario, BJALCF's founder and eight-year lung cancer survivor said: "We are honored and thankful to be chosen by Bravium Winery as one of the recipients of their giving program.
The health industry is being hit hard with Sequestration so partners like Bravium are going to be more important than ever to fund research that will save lives."
And the Peninsula Humane Society's president, Ken White, added: "We're more of a slurping crowd (especially our dogs!), but sipping is fantastic, especially when our adoptable dogs win. We are honored to be included among the beneficiary charities."
Rohlffs chose the name Bravium (Latin for "reward, prize or gift") to dovetail with the Sip&Give campaign that he made a part of the winery's DNA at its founding. Bravium is located on Treasure Island in the heart of San Francisco Bay, overlooking Alcatraz and the Golden Gate Bridge. Traditional winemaking techniques are employed: native yeast initiate fermentations, wines are moved around the winery by gravity, and red wines being are bottled unfined and unfiltered. The resulting wines truly reflect their origins: cool-climate vineyards located in the Mendocino, Sonoma, Napa and Carneros appellations.
Bravium's increasing wine production and sales are driving the 50-percent year-over-year growth of the Sip&Give campaign. Lucky and White Wedding are, respectively, the No. 1 and No. 2 "Most Popular" boutique red and white wines on Wine.com, and they are featured as "Bestselling Wines" and "Top Wines Under $25" on Amazon.com Wine Market. Bravium has also doubled its pinot noir production each of the past three years, recently bottling seven vineyard-designated wines from the 2011 vintage.
Roger Scommegna's Signal Ridge Vineyard, Mendocino Ridge's highest elevation planting, and John Floisand's Beau Terroir Vineyard off Stanly Lane in Napa Carneros highlight Bravium's growing pinot noir program. Rohlffs has also partnered with the Abbassi Family to produce Sonoma Carneros chardonnay from Robert Young clone vines planted in 1975, as well as two new pinot noir blocks that are being planted in spring 2013.
"The reason I love making pinot noir is because it is among the most transparent of wines. Pinot noir is greatly influenced by vineyard site, aspect, soil type, soil depth and weather conditions. Once in the winery, consistent winemaking protocols allow the fruit to communicate its source. And every bottle of Bravium pinot noir I make means more money for the Sip&Give charities," Rohlffs said.
For more information about participating in Sip&Give, visit http://sipandgive.com.
For more information about Derek Rohlffs and Bravium, please visit bravium.com. To buy wines from Bravium, go to http://wineshop.braviumwine.com. The winery tasting room at 995 Ninth St., Treasure Island, in San Francisco is open Saturdays and Sundays from 1 to 5 p.m. Follow Bravium on Twitter at twitter.com/InfamousWinemkr or like it on Facebook at facebook.com/bravium.
About Bravium
Bravium (Latin meaning reward, prize, or gift) produces vineyard-designated pinot noir and chardonnay and also bottles artisan wines, featuring proprietary white and red wedding wine blends, White Wedding and Lucky, as well as private label wines for casinos and celebrity chefs. Wines produced at Bravium's San Francisco winery include its flagship Bravium Pinot Noir, Bravium Chardonnay and Bravium Rosé, as well as Carefree Pinot Grigio, Dearest Dessert Wine, Sunlight Chardonnay, Noiro Pinot Noir, Outlier Pinot Noir, Formidable Merlot, Summercloud Merlot, Ramblin' Man Petite Sirah, Midnight Oil Syrah, Commitment Cabernet Sauvignon, Character Cabernet Sauvignon, High Stakes Cabernet Sauvignon and Sachem Cabernet Sauvignon. Derek Rohlffs is Bravium's winemaker and, as a member of the Cherokee Nation, is one of a very small number of Native American winery owners. Bravium has been certified by the Cherokee Nation as a TERO business. Bravium wines have received numerous accolades, including San Francisco Chronicle Wine Competition and Shanghai International Wine Challenge awards. Bravium gives back to charitable organizations via its Sip&Give campaign.