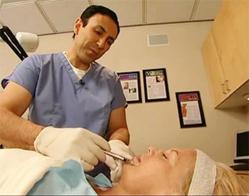 Los Angeles, CA (PRWEB) March 16, 2013
Effective March 15, 2013, Epione Beverly Hills announces a limited-time offer for the dermal filler Juvéderm of $225.00 per syringe. Epione believes this is the lowest price currently available for Juvéderm in the Los Angeles area and maybe the U.S.
Manufactured by Allergan, Inc. (the makers of Botox), Juvéderm is a hyaluronic acid based dermal filler approved for use by the Food and Drug Administration (FDA). Hyaluronic acid, naturally found in the skin, gives collagen its elasticity and fullness.
"There are dynamic wrinkles and static wrinkles," explains Dr. Simon Ourian, Medical Director of Epione Beverly Hills. "Dynamic wrinkles are those that occur over time when you smile or frown and are best treated with Botox or Dysport. Static wrinkles are age related and result from the natural loss of hyaluronic acid, collagen, and elastin in the skin. A dermal filler such as Juvéderm is the treatment of choice for static wrinkles."
Hyaluronic acid is a key component of the tissue in the layer of skin that lies beneath the epidermis. There, collagen, elastin, and hyaluronic acid combine to form a connective matrix. Over time due to stresses such as environmental pollutants and the sun's ultraviolet rays the skin loses its ability to produce hyaluronic acid impacting the connective tissue matrix. The ultimate result is the loss of facial volume and eventually folds and wrinkles.
"One of the things I like most about working with dermal fillers such as Juvéderm," concludes Dr. Ourian, "is the results are immediately apparent. With this limited-time special offer, I think we can help a lot of people that otherwise might not have been able to afford the treatment."
Dr. Ourian has been a pioneer in laser technology and non-invasive aesthetic procedures including Restylane, Juvéderm, Radiesse and Sculptra. These treatments are used for the correction or reversal of a variety of conditions such as acne, acne scars, skin discoloration, wrinkles, stretch marks, varicose veins, cellulite, and others. More information about Juvéderm can be found on Epione's website.