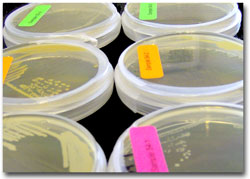 It will be rewarding to share our knowledge of various test procedures with other professionals who are interested in measuring the performance of antimicrobial agents - Benjamin D. Tanner, PhD, President, Antimicrobial Test Laboratories
Boise ID (PRWEB) March 19, 2013
Boise-based Healthy Facilities Institute (HFI) and Round Rock TX-based Antimicrobial Test Laboratories (ATL) have agreed to partner to educate facility professionals about microbial control.
"Although HFI does not endorse products or services, we believe in consulting expert sources that can help our community," said Allen Rathey, president and founder of HFI. "Antimicrobial Test Laboratories (ATL) well qualifies in this regard, as it is made up of hard-working, ethical scientists - many of them with PhDs - who love helping the facilities marketplace with antimicrobial testing. Since 2006, ATL has grown from a few dedicated scientists to a large, diverse team of microbiologists, quality assurance, and administrative staff, and it has been gratifying to see this happen."
"ATL is pleased to be assisting The Healthy Facilities Institute (HFI) with education of the marketplace. We enjoy 'talking shop' about sound testing principles while strictly protecting the confidentiality of our clients," said Benjamin D. Tanner, PhD, President, Antimicrobial Test Laboratories. "It will be rewarding to share our knowledge of various test procedures with other professionals who are interested in measuring the performance of antimicrobial agents."
Several years ago, ATL began conducting EPA Good Laboratory Practice (GLP)-compliant studies – ranging from disinfectant towelette wetness, to active ingredient characterization, to whole-room disinfection, and has built a culture of regulatory compliance and scientific integrity, demonstrated by hundreds of GLP studies submitted to EPA and FDA without a single rejection.
"ATL will also be a 'charter member' of HFI's upcoming Lab Resources Section which provides a place for labs to describe what they offer to facilities," noted Rathey. "They will join other intellectual 'powerhouses' such as NSF International in offering needed technical services on a level playing field with the aim of creating more healthful environments for all."