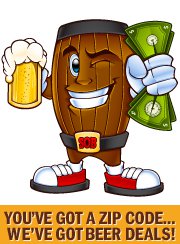 Naturally, the more beer you drink, the more you save!"
Houston, TX (PRWEB) March 17, 2013
St. Patrick's Day shoppers will find steep savings on beer in anticipation for St. Patrick's Day, according to SaveOnBrew.com, a nationwide beer price search engine. The site currently has close to 350,000 deals posted to help consumers drink quality beer for less.
Here are a few examples of St. Patrick's Day savings:

Drinkers in Buffalo, NY can buy a 12-pack of Guinness or Harp from TOPS Market for $1.08/beer. This deal represents a $3 savings off regular price. Consumer's Beverage has Murphy's Irish Stout for 50 cents to $1 cheaper than the competition.
Drinkers in Beverly Hills, CA will find Guinness and Harp as low as 83 cents a bottle at Ralphs. Those who prefer Guinness in the widget cans will find 6 for $6.99 at Vons.
Drinkers in Houston, TX can snag Guinness for 83 cents a can at Randalls. HEB and Kroger have Guinness sales at $1.33/beer this week as well.
Drinkers in Milwaukee, WI will find deals on Harp Lager at Discount Liquor for 87 cents/bottle. Those looking to splurge a little more but still take advantage of a sale can also find a 4-pack of Wexford Irish Cream Ale for $8.49 and 10 packs of Murphy's Irish Stout cans for $11.99. Pick N Save has a 12-pack of Guinness bottles for $12.99.
"Holidays are where people tend to see the biggest savings, hands-down," says SaveOnBrew Founder Mark Davidson. "Generally, consumers are stocking up for a house party or pre-parade shenanigans. Much beer is consumed. Naturally, the more beer you drink, the more you save!"
Davidson adds, "The good news is that you may be able to afford to drink a few tasty imports by shopping the sales. We've noticed that, this year – more than previous years, distributers are really looking to capitalize on people's desire to drink 'authentic' Irish beers for St. Patty's Day and they've responded with generous sales to convert new fans all year through."
Consumers can find beer sales by visiting SaveOnBrew.com. To narrow the search even more, they can also click "Imports" on the drop-down menu to see what beers from Ireland are available.
# # #
About SaveOnBrew.Com: Founded in 2010 to help thirsty beer drinkers across the United States find the lowest advertised prices for one of the world's most popular beverages.