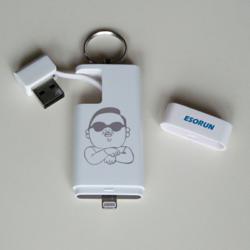 Mini power bank+cable+USB flash drive+Bluetooth alarm against losing
Shenzhen (PRWEB) March 21, 2013
Specialized technology company, Esorun Technology Ltd. has packed its new product - the Mini portable emergency charger with a power bank, a cable, a USB Flash drive and a Bluetooth Alarm, all in one.
The product stands launched and is now available for sale with retailers and wholesalers.
Consumers globally are on a constant lookout for smart accessory solutions for the varied gadgetry around nowadays. Charging solutions for these gadgets are not always handy or accessible because every time one needs to charge up, a power socket has to be frantically tracked down.
Bridging the gap needs for iPhone, iPod and iPad users, Esorun engineers have worked overtime to develop this wireless charger that can be directly plugged into these high end gadgets.
The unique four-in-one facility of this gadget proves very convenient to be used as a Mini USB flash drive, charging cable, Light power bank and Bluetooth alarm against losing.
A wide range of devices can be charged with its aid. It is available with 8 pin or 30 pin connector type and a micro USB. Different models of this charger device hold a memory capacity that ranges between 4GB and 32GB and a battery capacity of 500-700mAh. However, in all the models, the Bluetooth version remains the same as 4.0.
Living in times when dependency on gadgets like smartphones and Bluetooth speakers are increasing by the hour, Esorun has been quietly and efficiently working to enhance their utility by integrating multiple functions within a single device. The product can be presented as a creative, trendy and useful gift, meeting anyone's requirement.
Whether one is out in the wilderness where power is completely absent or travelling in a jam packed metro, this easy to carry and easy to use device can instantly spice up any device, whose power reserve is fading fast. Perfect for un-called for emergencies, the mini charger fits into ones pocket like a key ring.
About Shenzhen Esorun Technology Co. Ltd
Based out of Shenzhen China, Esorun Technology Ltd. is a professional technology company that specializes in the manufacture of wireless chargers, wireless hard drives, power banks, Bluetooth speakers and several iPhone accessories.
With constant innovation, the company has been a pioneer in manufacturing many digital products and devices, which are not only useful, but are also carved in a creative design, are trendy and fashionable in appearance and come packed with the highest quality standards.