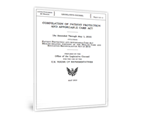 "The doctor of the future will give no medicine, but will interest his patients in the care of the human frame, in diet, and in the cause and prevention of disease."
Thomas Alva Edison
Austin, TX (PRWEB) March 18, 2013
Many doctors are already leaving practice to look for safer alternatives. It seems that some of the provisions in the Affordable Care Act will significantly change how doctors are paid. Can any good come from more legislation, especially concerning healthcare? The debate is ongoing, yet it seems that very few have actually read or understand what has been written into law. Even many of the politicians who voted on the bill did not actually read the legislation. Only now are people trying to interpret the meaning of the law, and more importantly how it is to be followed and implemented.
The act actually consists of ten sections or titles, with amendments in force and also pending. As the author of Health Recklessly Abandoned and in my business as a wellness advisor providing planning and implementation of corporate and personal wellness programs, there is hope. Especially when Title III and Title IV are considered.
Title III is called," Improving the Quality and Efficiency of Health Care". It includes discussion about transforming the health care delivery system. Even though there are many subtitles concerning the administration of Medicare, it is proposed that we will actually transform our current "disease care" model into one that is effective in promoting health in the place of aggressive, medication and procedure based, disease management. This is the future for what is now referred to as functional or lifestyle medicine.
Even more exciting is Title IV which is titled "Prevention of Chronic Disease and Improving Public Health". The act strongly promotes wellness, both in reimbursement and access for individuals. There is clear intention to put in place, clinical and community preventive services. There is mention of education and even of corporate wellness programs. There is reference to actual prevention of disease instead of simply better detection followed by management.
Judging this act as wholly negative, bureaucratic, political, and impossible to implement may be harsh. There is still the possibility of doctors going to jail or being in litigation constantly over parts of the act. Although there is room for healthy skepticism, there are factors for encouragement. The only way that we can handle the Health care crisis is to avoid more chronic disease with prevention.