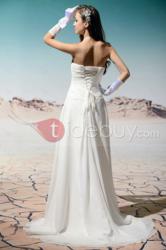 TideBuy is now offering big discounts on its prom dresses.
(PRWEB) March 18, 2013
Today, TideBuy, a leading supplier of wedding dresses and special-occasion dresses, is excited to launch a promotion of prom dresses, up to 70% off, to provide every girl a valued shopping experience
Edmond Liu, CEO of the company, said, "The promotion is for March 2013 only. Our cheap prom dresses come in different lengths, colors and styles. No matter A-line one shoulder sleeveless knee-length chiffon dress, or V-neck beading dresses, you will find your dream dress on our website."
At a prom, each girl hopes to be the center of attention. How to dress properly has been a wish of every girl who will take part in a prom.
"We make the prom dresses available to you at unbeatable prices now! Shop at TideBuy for a large variety of prom dresses, and we hope to offer your perfect look with the freedom and ability on any budget. You just need to find your best-loved dresses of different sizes and styles online, click the mouse and pay." Continued, Edmond Liu.
In addition, TideBuy has also come up with discounts on other wedding accessories (like gloves, lingerie, shawls, petticoats, and more). They are popularly used at a prom, and TideBuy plans to become one-stop shopping experience for its customers.
About TideBuy.com
TideBuy.com is providing substantial and stylish collections of wedding dresses along with other special-occasion dresses at acceptable low prices, and its merchandise includes cheap homecoming dresses, mother of the bride dresses, cocktail dresses, and much more. They have vowed to provide their own wedding dresses without sacrificing the high-quality materials and rapid delivery.
More information can be found at:
http://www.tidebuy.com/?utm_source=content&utm_medium=news&utm_campaign=index