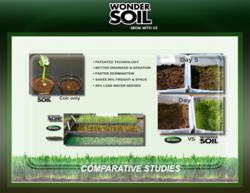 The fastest seed starter in the world
Las Vegas, NV (PRWEB) March 21, 2013
Wonder Soil® lawn seed starting soil, Reground™, will have lawn ready to mow in as little as 7 days.
Wonder Soil® has performed many studies on seed germination rates and now claims to have the fastest seed rooting rates in the world. This is huge advantage over the lawn and garden giants that have had a monopoly on the market in recent years.
Reground™ is manufactured and compressed, then shredded into small pieces. When Reground™ is rehydrated it will expand up to 8 times in volume.
Wonder Soil Reground™ is the fastest and most innovative lawn seeding product in the world. The Reground™ patented formula has many advantages over competitor's lawn seeding products. The biggest advantage is it comes already pre mixed and prepared with nutrients, minerals, worm castings, hummus, mycrorizae, fertilizer and compost; second is the speed at which it roots the seeds; third is you save 50% in water usage due to water saving polymers mixed in the formula; last but not least is the light weight (No shipping water weight).
Reground™ is a delight for older customers who have a hard time with heavy bags. The weight of one 5 pound bag when rehydrated will expand and weigh up to 40 pounds. Reground™ is the easiest and most versatile lawn repair product on the market.
You can pre mix the seeds with the Reground™ and spread over the ground and apply water. The compressed grow medium will expand and cover the seed. Then it will protect the seed and supply all the available nutrients it needs to root quickly.
In as little as 7 days the grass will root and be ready to mow. Incredible as it sounds, the grass is ready to mow twice as fast than other other product on the market. This is twice as fast as any competitor and expected to be used by many new customers.
Golf courses are expected to find Wonder Soil® Reground™ an incredible value. Golf course superintendence spends a lot of their time fixing divots and missing turf from golfers and rodents. Now that repair time will take much less time than before.
Reground™ may make the industry rethink rather or not sod is the best alternative to a quick lawn.
Now that a lawn can be grown from seed in half the time than before, landscapers can now offer a seeded lawn without the long wait. This has potential to replace sodded lawns because growing a lawn from seed is much cheaper than sod. In addition, someone can grow any type of grass and not be confined to what a local nursery has in stock.
Keep your eye on Wonder Soil® and their new products. This company may just be the future of landscape and garden growing. More information about Wonder Soil® can be found on their website at http://www.wondersoil.com.