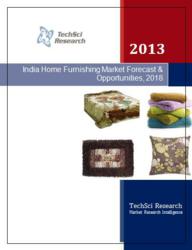 India Home Furnishing Market Set To Grow at 8% CAGR
Vancouver, British Columbia (PRWEB) March 19, 2013
According to the recently published report by TechSci Research "India Home Furnishing Market Forecast & Opportunities, 2018", home furnishing market in India is expected to witness CAGR (compounded annual growth rate) of around 8% during 2013-2018. With the increase in the number of working women in the country, increasing demand among the consumers to design their houses is creating an impulse among the consumers, which is helping the market for home furnishing to grow. It is forecasted that India home furnishing market will reach USD 5.29 Billion revenues by 2018, due to growing retail industry along with high per capita income as well as growing population of the country which is making the future of home furnishing more promising.
Global home furnishing market has witnessed ups and downs in the last few years due to 2009 euro crisis and its post economic crisis. The global market has been growing at a slower rate but with the rise in income of the consumers and changing lifestyle, the market is expected to grow at a higher rate in future. Europe accounts for the largest market for home furnishing followed by Unites States and Asia Pacific.
India home furnishing organized sector accounts for merely 6% of the market revenues and 94% of market is captured by unorganized companies. The organized sector comprises of big brand companies and international companies including Bombay Dyeing, Alok Industries, Welspun India, Kurlon, D Décor, Vishal Mart, Home Saaz, etc. Unorganized sector consists of small players with manufacturing varied products at a lesser price.
The domestic market for home furnishing has been increasing due to rise in disposable income and a jump in home furnishing retail chains. The Indian market for home improvement is dominated by unorganized sector due to more brand visibility, varieties and low prices. Bombay Dyeing and Alok Industries are the leaders in the organized market. The segments in home furnishing include bed and bath linen, curtains and upholstery, kitchen linen, blankets, carpets and rugs. In the near future, the market for curtains & upholstery and blankets & rugs will grow at a faster rate.
The report has evaluated the future growth potential of home furnishing market in India and provides statistics and information on market structure, market trends, market size, etc. The report will suffice in providing the intending clients with cutting-edge market intelligence and help them in taking sound investment decisions. Besides, the report also identifies and analyzes the emerging trends along with essential drivers and key challenges faced by the industry.
To download complete report, please visit http://www.techsciresearch.com/2121