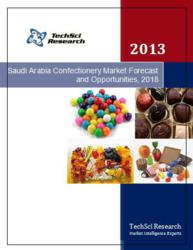 Saudi Arabia Confectionery Market Set To Grow at 12% CAGR till 2018
Vancouver, British Columbia (PRWEB) March 20, 2013
According to the recently published report by TechSci Research "Saudi Arabia Confectionery Market Forecast & Opportunities, 2018" confectionery market in Saudi Arabia is expected to witness the CAGR of around 12% during 2013-2018. Confectionery industry is the most popular in the food processing sector and with the increasing demand of high end confectionery; international companies are entering into the market through collaborations and acquisitions in order to increase their share in the market.
It is forecasted that Saudi Arabia confectionery market will reach USD 2.26 Billion (SAR 8.4 Billion) revenues by 2018 due to increasing gifting culture and the income bracket which will fuel the demand for confectionery products in Saudi Arabia. Saudi Arabia confectionery market is divided into three segments with Chocolate segment being 55% of the market, sugar confectionery accounting for 24% of the market and chewing gum being 21% of the total confectionery market. It has been expected that demand for chewing gum segment will increase in the coming years due to increasing health concerns among the people and shift in the target consumer base.
Global confectionery market has witnessed a slow up in the last few years due to 2009 euro crisis and its post economic crisis. The global confectionery market has shown an upward trend since 2010 with the improvement in the economy. Western Europe accounts for the largest market for confectionery followed by North America and Asia Pacific. With the increased consumption of confectionery and traditional role of sweets in the country, the market is expected to accelerate in the coming five years.
The Saudi Arabia confectionery market is dominated by Krafts Food being the market leader followed by Mars and Nestle. Local manufacturers also play a significant role in the confectionery market due to proximity to the market and increasing awareness among the consumers. Saudi Arabia imports chocolate confectionery and sugar confectionery from countries namely Italy, Spain, Germany and Belgium. Increasing imports from different countries due to high quality can act as a challenge for the country's economy and local manufacturers.
The confectionery industry has a considerable growth potential in the country but the area of concern lies in high input cost of raw materials such as sugar, cocoa, milk powder and increasing packaging cost. Increasing tariffs and rising custom duty makes the imported confectionery costly thereby affecting the wealth of the country.
The report has evaluated the future growth potential of confectionery market in Saudi Arabia and provides statistical information on market structure, market trends, market size, etc. The report will suffice in providing the intending clients with cutting-edge market intelligence and help them in taking sound investment decisions. Besides, the report also identifies and analyzes the emerging trends along with essential drivers and key challenges faced by the industry
To download complete report, please visit http://www.techsciresearch.com/2126