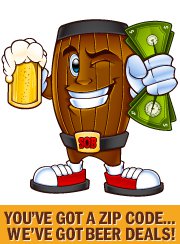 Life is too short to drink cheap beer!
Houston, TX (PRWEB) March 18, 2013
March Madness parties are in full swing. However, it can get expensive to host parties all month long. SaveOnBrew is a new beer app that lets basketball fans find an accurate listing of all local retail beer sales and prices. One need only enter a zip code at SaveOnBrew.com to find deals on brew.
"We love basketball and beer, but we hate being broke," explains SaveOnBrew's Mark Davidson. "A huge portion of our audience is comprised of college students who are living frugal lifestyles, but don't want to sacrifice a good party or hanging out with their friends on game day."
Deals are listed from coast to coast and include brands to suit all palates, from Budweiser to Blue Moon. Consumers can further filter their search results by brand, store, type, container, quantity and price. Retailers run the gamut from convenience stores and mom-and-pop liquor stores to large chains and supermarkets. The SaveOnBrew beer price search engine can be accessed by PC or mobile device. Results are updated daily. At any given moment, 250,000 to 350,000 beer sales are posted on the site.
"Life is too short to drink cheap beer," says SaveOnBrew writer Jennn Fusion. "This week, I found huge deals on St. Patty's Day favorites -- like Guinness and Harp on sale for $1.08 a bottle. I was also psyched to see the Best of Belgium Variety Park – Leffe, Hoegaarden and Stella – for 92 cents a bottle. You can't beat it!"
In addition to posting beer deals, the group has a thriving Facebook community full of shareable images and articles. Their Beer Blog is updated with entertaining and exclusive content daily. The site also has a spot where drinking games are posted that can be fun for March Madness fans, specifically.
"We advocate responsible drinking, of course," Davidson says. "But we all like to have a little fun too. We drink whenever the announcers use the phrase 'the paint' or when a player unsuccessfully tries to keep the ball from flying out of bounds. We drink when the coaches swear or when a song from 'Jock Jams' comes on. The beauty of SaveOnBrew is that you can drink as much as you feel comfortable drinking, without worrying about running out of cash."
For a listing of cheap beer deals, one may visit SaveOnBrew.com, click on "Yes I'm 21," click on "Start Saving Now," enter a zip code, and hit "Beer Me" to access the most accurate and up-to-date list of beer prices.
# # #
About SaveOnBrew.Com: Founded in 2010 to help thirsty beer drinkers across the United States find the lowest advertised prices for one of the world's most popular beverages.