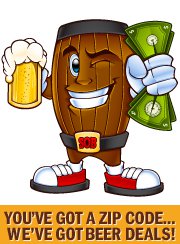 People come in to Sam Adams, Shiner Bock or Blue Moon and move on.
(PRWEB) March 19, 2013
Though craft beer only represents 5 percent of the total market, sales have more than doubled since 2007, according to Mintel. SaveOnBrew – America's only search engine for beer – wondered: without all the big budgets and massive marketing efforts, how are all these people switching from well-known brands like Budweiser and Coors Light to more obscure microbrews?
This month, The Beer Blog at SaveOnBrew.com has featured exclusive stories from readers about their "gateway beers" into the wonderful world of craft brew. They wanted to know what beer created that first "AHA!" moment, as well as how beer fans' palates have changed over the years. At the end of this experiment, they hope to identify important trends among craft brew consumers.
"What I'm finding most interesting is that hardly anyone is still hung up on that first love," says Chief Content Director Jennn Fusion. "My first love was Stella Artois, but I rarely ever drink that anymore. We're seeing a lot of that across the board. People come in to Sam Adams, Shiner Bock or Blue Moon and move on."
Another trend, she says, is a taste for hops. "We find that hoppy IPAs are the first love of many people. Especially on the West Coast, people are immediately charmed by the fresh taste, crisp bite and complex citrus / pine flavors. Generally speaking, most of our East Coast drinkers mention that they 'acquired a taste' for hops with the more different craft beers they tried. We find that fascinating."
Favorite beers really run the gamut from Sam Adams, Sierra Nevada, and Anchor Steam – to Bell's, Stone, and Hennepin. There seems to be no single name that comes up time and time again. Craft beer drinkers also seem to have less loyalty to brand than drinkers of macrobrew like Budweiser or Coors Light.
"What I really like about these stories is that there is a sense of adventure packed in," Fusion says. "At SaveOnBrew, we strongly feel that there is 'the right beer, at the right time, in the right place,' which dictates one's love for a particular brew. It's cool to hear people's stories about 'that most memorable beer.'"
Passionate beer lovers are invited to share their unique stories by contacting JennnFusion@SaveOnBrew.com. They can also visit the site to find new beers and see which beers are on sale this week.
About SaveOnBrew.Com: Founded in 2010 to help thirsty beer drinkers across the United States find the lowest advertised prices for one of the world's most popular beverages.