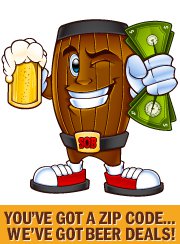 All craft beer fans have that one moment where a beer really blew their minds.
Houston, TX (PRWEB) March 20, 2013
SaveOnBrew.com is not only the worlds only beer price search engine, but also a place to find innovative, exclusive content pertaining to the beer industry. This month, they launched a new weekly series where they invite readers to share their passion for craft beer.
"All craft beer fans have that one moment where a beer really blew their minds," says Jennn Fusion. "We wanted to hear about the 'gateway' beer that brought people from Budweiser and Coors Light to the wonderful world of craft brew. There are a lot of interesting stories out there and the craft brew community lends itself to the passionate exchange of ideas, so it's really a neat little project."
Furthermore, it's really a fantastic promotional opportunity for business entrepreneurs, writers, celebrities, and others to gain more exposure. The SaveOnBrew Facebook community is continually growing, with more than 27,600 fans and regular readers. Links are posted along with all responses chosen, so each article tells a story within a story.
"We choose submissions based on their authenticity and interest level," Fusion explains. "Yet, we've seen some very clever ways of weaving self-promotion into the story and frankly, I've clicked on a lot of the links to learn more about what people do when they're not drinking craft beer! I've discovered some excellent beer-related gadgets, blogs and breweries from our readers. It's really a win-win for everyone involved."
Over time, as the multi-part series develops, SaveOnBrew is looking for trends and similar threads. They are looking at what type of beers people favor most, how they're being exposed to new beers, and how their palates evolve over time.
SaveOnBrew is no stranger to independent research. Every year, they publish beer price reviews for all the NBA, NHL, and NFL stadiums. They've also compiled data about state beer taxes and laws. Their unique infographics identify relevant statistics, beer brands and themes to interest the beer drinking community.
Individuals are invited to respond to the query: "What was your 'gateway beer' into the world of craft brew, and how has your palate changed since then?" Answers may be sent directly to JennnFusion(at)SaveOnBrew(dot)com. Ongoing submissions are being accepted now. The series is published every Thursday at SaveOnBrew.com.
About SaveOnBrew.Com: Founded in 2010 to help thirsty beer drinkers across the United States find the lowest advertised prices for one of the world's most popular beverages.