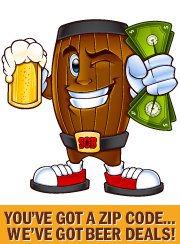 We're seeing a tremendous amount of growth stem from our content marketing.
Houston, TX (PRWEB) March 21, 2013
Small start-ups running on shoestring budgets can learn a lesson or two from the folks running the retail beer price search engine at SaveOnBrew.com. Since 2010, the company has been running on a very minimal budget, but has amassed nearly 30,000 fans through word-of-mouth advertising, content marketing and organic growth.
"Since this morning, we've added over 100 people to our fan base," explains SaveOnBrew's Mark Davidson. "Undoubtedly, the St. Patty's Day weekend has been driving a lot of traffic our way as people look for ways to have more fun for less money. Yet, we're also seeing a tremendous amount of growth stem from our content marketing."
Davidson says that their goal is to post a funny or thought-provoking image every morning and a unique, exclusive blog every evening. "We don't want to bombard people with a crazy amount of content in their feeds," he says, "but we do want to give them something to make them smile or chuckle when they need it most – at the start or end of a typical work day."
A few weeks ago, the group posted a Someecard that read: "You say Thursday. I say it's Friday Eve." The sentiment apparently resonated with their audience, as the post garnered 150 Likes, 60 Shares and picked up 9,033 views. Another post read: "Step over, coffee. This is a job for beer." They received 163 Likes, 138 Shares, and more than 13,000 views on that one.
Other efforts pan out in less obvious ways in the short-term, but pay off in the long run. "Our brewer interviews don't always pick up a ton of comments, likes or shares," Davidson admits, "but we can see the articles are getting a lot of reads. We've gotten some great feedback from the brewers too that they've received a good deal of traffic after our article ran, as well as some inquiries from out-of-state consumers interested in placing orders. That's the best news we can possibly hear!"
Networking with journalists has served SaveOnBrew well, without costing a cent. Although, it's recommended that small businesses invest in back-up to keep the site afloat in the event that traffic suddenly picks up from a promotional effort. "We always experience a flood of traffic following a feature on Yahoo, MSN or another major news source," Davidson says. "Of course, that can be really bad if your website isn't equipped to handle a sudden spike in visitors, as we have learned the hard way over the past few years."
More information on this thriving small business can be found at SaveOnBrew.com.
About SaveOnBrew.Com: Founded in 2010 to help thirsty beer drinkers across the United States find the lowest advertised prices for one of the world's most popular beverages.