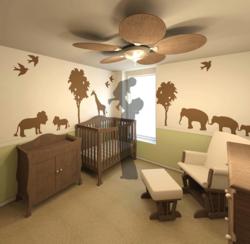 We are bringing affordable but competitive design to small-scale home remodeling projects. Clients on average receive about nine design solutions for their projects
Cambridge, Massachusetts (PRWEB) March 19, 2013
Arcbazar, a Cambridge based online company for architectural design announces a resource that offers parents an innovative solution to create customized dream rooms for kids.
Expecting a baby is bliss in anticipation. Millions of expectant parents spend months in planning, shopping and preparing every detail for the new baby arrival. Building a nursery that is simultaneously beautiful, soothing and functional usually tops the wish list. However, very few parents can afford the cost of hiring a professional to help design and implement their vision for the joyful space.
Arcbazar addresses this challenge by crowdsourcing interior design. Every project is launched online and designers worldwide compete and submit solutions for the space. Hundreds of people around the globe have already used Arcbazar for successful remodeling, home, commercial and interior design projects.
"We are bringing affordable but competitive design to small-scale home remodeling projects. Clients on average receive about nine design solutions for their projects," says Imdat As, CEO of Arcbazar.com.
Coleen F. from Florida, expecting their first child, wanted the nursery to reflect their love for traveling and was envisioning a space that would incorporate soft-toned colors, world maps, and a safari-based theme. They initiated a contest on Arcbazar to take an existing spare bedroom and turn it into the baby's nursery.
"We had used interior designers or consultants before and were aware of the cost just to get one design idea. For less money, we were able to get nine designs including detailed drawings and shopping lists, matching our stated preferences and budget for our nursery. We had fun reviewing and selecting the winning design", says Coleen, "we had a great experience with Arcbazar!"
The winning entry came from C+P Architectural Design Studio from Wisconsin. Colleen was extremely pleased with the results, and already implemented the winning design. Now the once spare room is ready to house the long-awaited baby, "we'd definitely use them again," Coleen added.
About Arcbazar.com
Arcbazar.com, Inc. is the first-of-its-kind online marketplace for architectural design projects. The company connects clients with designers worldwide, and allows clients to run competitions for their remodeling, home, commercial and interior design projects. To learn more, visit http://www.arcbazar.com
Ana Batista
Media Relations
Arcbazar.com
c/o Dogpatch Labs
One Cambridge Center, 6Fl
Cambridge, MA 02142
Tel: 888-400-7861
E-mail: ana(at)arcbazar(dot)com