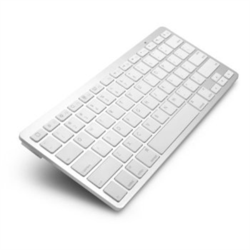 iGear's Universal Bluetooth Keyboard follow's Apple's design direction of combining clean white keys with fine crafted aluminum. It's universally compatible with all Bluetooth enabled computers, laptops, and tablets.
Chicago, IL (PRWEB) March 18, 2013
As the iPad gains popularity among schools' technology deployments, some teachers are raising concerns about the virtual keyboard:
1. Proper typing skills
The iPad is made for natural interaction with the user using hand gestures. While this is great for many applications, it may not be the best way for students to learn how to speed-type properly using all fingers. Many students default to using just one or two fingers to enter text. Once that habit is formed, it may be difficult to break in the future.
2. Space
Although the iPad has enough screen real estate to accommodate a full size keyboard, it can be difficult to see the document being typed on the screen. The full-size QWERTY keyboard uses a large amount of the screen space to accommodate two hands while typing. This limits the ability to proofread a document or letter while typing. Only a fraction of the letter or document will be visible above the virtual keyboard.
3. Ergonomics
Using a virtual keyboard on the iPad can cause ergonomic issues for the user. The iPad must be propped at an angle to keep wrists in the proper position for comfortable typing. The user must also look directly down on the screen while typing and this can lead to neck injury or neck fatigue if typing for a long period.
4. Dirty Screens
While a physical keyboard can become dirty with crumbs, dust and debris, the screen usually remains clean. When using a virtual keyboard and touch-screen technology, the screen will inevitably become smudged and dirty. Over time, the device's screen can become difficult to see and read.
5. Tactile Feel
One benefit of a physical keyboard is the ability to feel the keys pushing down. Although this is not necessary, it does help some users determine when a key is struck with an appropriate amount of force. The virtual keyboard does not provide the same tactile feel and can take some adjustment for those composing letters, documents or chatting online.
One effective solution is to pair the iPad with a physical Bluetooth keyboard, such as the Universal Bluetooth Keyboard from iGearUnlimited. Its slim profile and light weight make it easy to carry in the student's backpack. Pairing with the iPad is super easy – just turn on the keyboard and select it in the iPad's Bluetooth Devices list. A dedicated re-link button allows the keyboard to connect to a different iPad easily.
When used with iGear's rugged Tough Case, students truly have the best of both worlds. Both items are available with deep discounts for schools, it truly is the winning combination for schools deploying a large number of iPads.
An added benefit available on iGear's keyboard is the option to identify each keyboard with a serial number, barcode, and other tracking information, even the student's name and photo, so it's easy for schools to manage a large number of such devices.
"iGear's Universal Bluetooth Keyboard follow's Apple's design direction of combining clean white keys with fine crafted aluminum." says Jimmy Sun, president of iGearUnlimited.com. "It's universally compatible with all Bluetooth enabled systems such as iPads, laptop and desktop computers, tablets running iOS, Android and Windows operating systems."
The Universal Bluetooth Keyboard is available from iGearUnlimited.com. Schools should contact the company directly for educational discounts.
About iGearUnlimited.com
iGearUnlimited.com is powered by Sunrise Digital, an Inc. 5000 company established in 1988 and employs the most advanced equipment and technology, such as G7-certified HP Indigo and UV flatbed presses, and digital die-cutting, to create best-in-class products. A privately-owned enterprise, the company is based in Chicago and sells products worldwide.