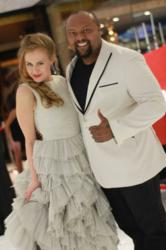 A MELODIC RIFF
Beverly Hills Ca (PRWEB) March 16, 2013
Dionne Warwick, cousin to the late great Whitney Houston was very proud as she heard the young songstress Melody Riffs captivate a crowd of more than 800 at the grand opening party for Couture Customs a high end car dealership that specializes in customizing exotic cars like Bugatti, Ferrari, Lamborghini, etc. Even actor Carey Tagawa (Memoirs of A Geisha, Mortal Combat) was left nearly speechless, although we were able to get a quote about Melody.
He said, "It is once in a blue moon you trip across an artist who has all the ingredients naturally to be a star, she is truly a natural.... it is not easy to perform in front of people distracted by things like such beautiful automobiles, women, and the most expensive champagne, however this young lady truly truly has it."
Damon Elliott, who was running around like crazy while hosting Mya, and many A-List celebrities said briefly "Melody is a star... she is in my opinion way more focused and talented then Keyshia Cole who I signed 7 years ago... Even with Keyshia I had second thoughts... But with Melody it was a no brainer and I signed her on the spot, and now I am happy to announce a major distribution deal has been inked."
Marcus Flye, Reporter, Flye PR Inc.