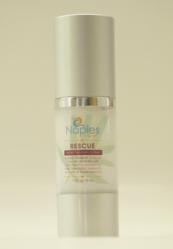 Naples, FL (PRWEB) March 20, 2013
The spring season is right around the corner and with the seasons making a shift toward warmer weather there are going to be instances of fall backs into the colder days and nights. Combat facial dryness, resulting from exposure to rapidly changing climates, with Naples Sea and Sun RESCUE facial recovery lotion. Their nearly 100% natural ingredients provide all the vitamins and minerals delicate skin needs to lock in moisture and repair damage from seasonal dryness.
Since facial skin requires different needs than the rest of a person's body, Naples Sea and Sun has developed the lightweight repair product to quickly absorb into the upper layer of the skin as to not clog pores and prevent the formation of blackheads. The product then acts to restore, soften, moisturize and heal the dry exposed facial skin.
Natural ingredients such as aloe, avocado seed oil, jojoba seed oil, grape seed oil, shea butter and vitamin E help supply the skin with the necessary nutrients to not only repair damaged facial skin, but also smooth over potential age lines through moisturizing and provide a layer of protection to keep the skin looking younger longer.
Naples Sea and Sun also provides a variety of lotions and soaps infused with natural oils to provide the body with an overall complete care system. Coconut and other naturally rich oils, vitamin E, and essential fatty acids needed to help maintain healthy, youthful skin is included in all of their natural, handmade soap products which are scented to energize, soothe, or relax.
More information about the Naples Sea and Sun products can be found at http://www.NaplesSeaAndSun.com. Go a bit further and connect with them socially on Facebook, Twitter, and Pinterest.
About:
Naples Sea and Sun has provided after-sun lotion and sprays as well as hand-crafted soaps for nearly three years. Their products contain nearly 100% natural ingredients and essential oils that leave skin healthy and smooth for a reasonable cost. Lotions and sprays are developed to condition and maintain skin on a day-to-day basis and after prolonged sun exposure. Naturally scented soaps offer tropical scents of the region as well as natural moisturizers that leave skin resilient.