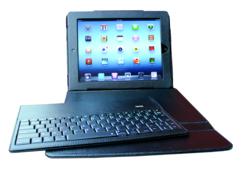 iGear's Bluetooth Keyboard Portfolio combines the best of both worlds... Well-padded protection for the iPad, and the typing speed and accuracy only available with a physical keyboard.
Chicago, IL (PRWEB) March 19, 2013
According to an article published on Billings Gazette – "About 5 percent of the iPads purchased for school students and staffers in Powell Wyoming have had to be repaired or replaced since they were introduced last year. Eighty-one iPads worth $40,192 were damaged. Of those, seven belonged to teachers and administrators and 74 were assigned to students. The most common problem was broken screens."
Kids can be rough with their toys, and that can cause a problem for schools deploying iPads in the classroom. Recent reports show that up to 15% of iPads are damaged within the first 2 weeks if not used in a protective case. Most of the damage is due to accidental dropping, leaving bent corners, scratched sides, and most commonly, broken screens.
Some schools are dealing with the problems by purchasing a protection plan from Apple, or purchasing cases for their iPads, or both. To ensure the deployment goes smoothly and minimize delays and administrative burdens, the best practice proved to be using a well padded case that protects the iPad no matter what happens.
And as the iPad gains popularity among schools' technology deployments, some teachers are raising concerns about the virtual keyboard:
1. Proper typing skills
The iPad is made for natural interaction with the user using hand gestures. While this is great for many applications, it may not be the best way for students to learn how to speed-type properly using all fingers. Many students default to using just one or two fingers to enter text. Once that habit is formed, it may be difficult to break in the future.
2. Space
Although the iPad has enough screen real estate to accommodate a full size keyboard, it can be difficult to see the document being typed on the screen. The full-size QWERTY keyboard uses a large amount of the screen space to accommodate two hands while typing. This limits the ability to proofread a document or letter while typing. Only a fraction of the letter or document will be visible above the virtual keyboard.
3. Ergonomics
Using a virtual keyboard on the iPad can cause ergonomic issues for the user. The iPad must be propped at an angle to keep wrists in the proper position for comfortable typing. The user must also look directly down on the screen while typing and this can lead to neck injury or neck fatigue if typing for a long period.
4. Dirty Screens
While a physical keyboard can become dirty with crumbs, dust and debris, the screen usually remains clean. When using a virtual keyboard and touch-screen technology, the screen will inevitably become smudged and dirty. Over time, the device's screen can become difficult to see and read.
5. Tactile Feel
One benefit of a physical keyboard is the ability to feel the keys pushing down. Although this is not necessary, it does help some users determine when a key is struck with an appropriate amount of force. The virtual keyboard does not provide the same tactile feel and can take some adjustment for those composing letters, documents or chatting online.
One company is determined to solve such problems for schools - iGear's iPad Bluetooth Keyboard Portoflio combines the protection offered by a well padded leatherette case with a built-in, magnetically removable Bluetooth keyboard. It's also extremely affordable for students and schools through special iGear for Education pricing.
The case itself is made of high-grade textured leatherette, offering tough protection for day to day use. The case is padded all around, protecting the iPad from front, back, sides, and corners. The built-in Bluetooth keyboard features a full-size QWERTY layout with hard keys (unlike soft rubbery keys found on less expensive keyboards), rechargeable lithium battery, and attaches magnetically to the Portfolio case.
"iGear's Bluetooth Keyboard Portfolio combines the best of both worlds..." says Jimmy Sun, president of iGearUnlimited.com. "Well-padded protection for the iPad, and the typing speed and accuracy only available with a physical keyboard."
The Bluetooth Keyboard Portfolio is available from iGearUnlimited.com. Schools should contact the company directly for educational discounts.
About iGearUnlimited.com
iGearUnlimited.com is powered by Sunrise Digital, an Inc. 5000 company established in 1988 and employs the most advanced equipment and technology, such as G7-certified HP Indigo and UV flatbed presses, and digital die-cutting, to create best-in-class products. A privately-owned enterprise, the company is based in Chicago and sells products worldwide.