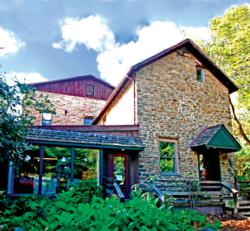 Two lucky shoppers will find a $250 gift certificate in their gift bag!
Frenchtown, NJ (PRWEB) March 17, 2013
Well-known artisan clothing designer Jennifer Barclay's Company, Blue Fish Clothing is hosting a 3 day semi-annual sale. Visit our store page to learn more about our Frenchtown Sale.
A special "one-of-a-kind" hand printed Blue Fish bag will be offered to the first 30 customers spending $200 or more. Additionally, two lucky shoppers will find a $250 gift certificate in their bag, good towards a future Blue Fish purchase.
Blue Fish Clothing is offering deep discounts on previous artisan collections in order to make room for their beautiful new spring collections. Blue Fish Clothing's vision has always been to make unique, comfortable clothing for every woman. A company by women for women. Always organic and natural, always made in the US.
The semi-annual sale will be held in the company's 19th century Frenchtown stone mill shop and studio, 62 Trenton Avenue, March 22, 23 and 24th from 10am to 6pm each day. All are welcome!
About Blue Fish Clothing Company
In 1986, Blue Fish founder Jennifer Barclay decided to design clothing that made her feel comfortable, stylish and happy. She quickly realized that many women wanted the same thing. Her playful, vibrant and artistic style of clothing became popular throughout the country. 
Blue Fish clothing is easy-to-wear artistic clothing that is inspiring, creative, fresh and unique, with styles that appeal to every age, shape and body style. Season after season, year after year, styles and patterns work together, enabling wearers to build a functional collection. At Blue Fish, quality natural fabrics are designed into timeless styles that last and never go out of style.  Customers treasure each piece.  All Blue Fish clothing is designed and made in the USA and local artisans hand print each piece. For more on how we make our clothes click here.
Blue Fish Clothing has three store locations, our headquarters in Fairfield IA, our flagship store in Frenchtown, NJ and a store in Taos NM.
Jennifer and her family moved to Fairfield, IA a couple of years ago.  Fairfield, Iowa was featured in "Oprah's Next Chapter", which aired March 25th, 2012 on the Oprah Winfrey Network, as one of the "safest, greenest and most unusual communities in America".