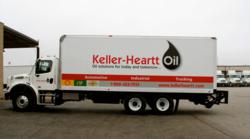 Keller-Heartt's new truck fleet reduces customer receiving time, the miles driven per order, and emissions.
Chicago, Ill. (PRWEB) March 19, 2013
Since 1929 Keller-Heartt Oil has delivered oil-based lubricants and absorbents to customers in the automotive, industrial, construction and trucking industries. Until now deliveries were made on separate trucks by product type – bulk, drum or packaged goods. The company's newly upgraded truck fleet is reducing receiving time at customer locations and combining product loads so customers can receive packaged goods, drums and bulk lubricants at one time, from a single truck.
"With these newly equipped trucks we can deliver packaged products and bulk products all on the same load. The quick pump action reduces customer receiving time during delivery. It's very efficient," says Brian McGrath, president of Keller-Heartt Oil.
The new multi-tasking trucks were purchased in response to the company's 25% growth in 2012 and a changing oil products industry. Keller-Heartt is expanding its territory and transporting farther outside its Chicago base. With more customers, a larger mix of products occurs. Major suppliers Shell, Quaker State and Pennzoil have expanded their product lines to include more options for customers, including boutique products such as synthetic blends and high mileage motor oils.
The multi-tasking trucks are unique to the industry and designed specifically to the needs of Keller Heartt. They are made up of Freightliner cabs, Morgan bodies, Growmark tank pumping systems and the latest tier 4 engines. The trucks are equipped with metered, dedicated hose lines to assure accuracy and non-mixture of motor oil grades. By incorporating six pumping systems on each truck, the company is now able to put six or seven different lubricants on the truck. Keller-Heartt is managing its truck fleet to maximize flexibility for customers.
Rich Lorrich, owner of Lightning Lube in Chicago, appreciates the innovative way Keller-Heartt has helped reduce congestion in his lot during delivery time. "The drivers are fast, in and out in 10 minutes, which reduces traffic issues. Keller-Heartt always goes the extra mile for us. I love their service and quality products."
The new truck fleet meets the most stringent, quality standards while offering customers a more convenient and economical way to purchase oil products.
Green Fleet
An added benefit for Keller-Heartt is fuel economy and a lower carbon footprint. "Our new trucks will reduce the miles driven per order, saving on fuel costs and reducing emissions considerably versus earlier engines. We are more efficient and environmentally friendly," said McGrath.
About Keller-Heartt Oil
A full-service Shell alliance lubricants distributor, Keller-Heartt Oil built its reputation on ready deliveries, technical and logistics expertise, and customer-friendly service to customers in Chicago and Northwest Indiana. In its 40,000-square-foot Chicago warehouse, Keller-Heartt maintains a complete inventory of lubricants for bulk, drum, and packaged goods. A staff of technical experts provides usage recommendations for customers. Its petroleum products can be purchased worldwide through Keller-Heartt's one stop solution e-commerce website. In addition to Shell Oil products, suppliers include Pennzoil, Oil Eaters, Quaker State, WD-40 and other leading manufacturers. For more information visit http://www.kellerheartt.com.