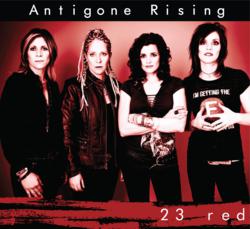 Once again, Antigone Rising has proved beyond a shadow of a doubt that women really can do it all — write meaningful lyrics, successfully master their instruments, and sing in such a way that makes listeners hang on their every note
New York, NY (PRWEB) March 18, 2013
ANTIGONE RISING, one of Country/Rocks most popular live acts, returns to the Mercury Lounge, at 217 East Houston Street on Friday, April 12th, for an 8pm show.
The ladies of Antigone Rising are currently in the studio putting the finishing touches on a new EP scheduled for release this Summer.
Antigone Rising exploded onto the spotlight in 2005 becoming the first band on Starbuck's Hear Music (Lava Records) with their best selling debut LP. A lineup change brought Nini Camps to the band, whose voice blends perfectly with the signature style soaring three part harmonies of founding sisters Kristen Henderson (bass /vocals), Cathy Henderson (lead guitar /vocals) and Dena Tauriello (drums), that Antigone Rising has become known and loved for.
The band's current CD, "23 Red" continues to turn heads as their themes abound with songs that speak to the full range of emotions and life. The band has opened for such acts as The Rolling Stones, Aerosmith, Joan Jett and The Blackhearts, Rob Thomas, and The Bangles, and are favorites in festivals around the country.
The Social and the Political Cool Stuff:
Antigone Rising traveled to Israel and the West Bank as Arts Envoys, a cultural initiative sponsored by the U.S. Department of State. During the trip the band performed in Jerusalem, Tel Aviv, Ramallah and other regional cities, leading community outreach workshops and making music with Israeli and Palestinian musicians. The band touched diverse audiences demonstrating that all cultures appreciate and connect to the language of music.
Last year, Simon & Schuster's Free Press released "Times Two" the true life story of Antigone Rising bass player, Kristen Henderson and her partner, Sarah Kate Ellis. This book tells the humorous and amazing story of how they conceived their babies on the same day, and the trials and tribulations that ensued when they were both pregnant at the same time. It is one of those "truth is stranger than fiction" scenarios that has touched a chord with all kinds of modern families in today's America.
Antigone Rising
at the Mercury Lounge
217 East Houston Street ( between Houston and Essex Streets)
7:30 PM SHOW
tix: $12/15 door
21+