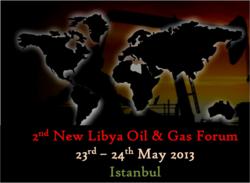 (PRWEB UK) 18 March 2013
Following the success of the first New Libya Oil and Gas Summit 2012, the organisers are happy to announce the second annual edition this year, known as the Second New Libya Oil & Gas Forum 2013 to take place on the 23rd and 24th May in Istanbul, Turkey.
The event is once again, endorsed and supported by the National Oil Corporation (NOC) of Libya, welcoming a large senior-level delegation from leading figures of a country that has the largest oil reserves in Africa.
The first New Libya Oil & Gas Summit took place in March 2012 and was characterized by over 300 senior-level attendees. Attendees and notable speakers included senior figures such as Chairmen and CEOs of NOC Libyan Oil companies, International Oil Companies currently active in Libya and companies serving the industry. This Forum is first and only event that takes place outside of Libya and endorsed by the NOC of Libya.
This year the forum will be taking place at a time when the Libyan Government is in search of new foreign investors in the natural wealth of the country, and maintain close relationships in order to further boost the economy after the successful transition. The event will provide a high-quality platform in which participants will receive all the required information to invest and meet the people that are influencing the hydrocarbon industry of the Libya in a 5* venue in Istanbul.
This project consists of a collaboration of the global summits organisers IRN and Oliver Kinross with Libyan company Barcah Group.
For more information and registration inquiries you get in contact with the companies at info(at)libyaoilgas(dot)com or visit the website.