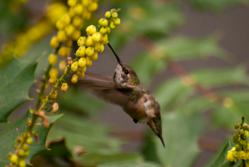 Jersey City, NJ (PRWEB) March 16, 2013
Originally aired live back in January 2013 on Queens Public Television, the talk show featuring Vidhya Narayanan discussing her experiences and views on photography and birding is now available to the public on YouTube. The video can be watched from this link.
In a rather lively discussion, Vidhya spoke about walking through the woods in the Jamaica Bay East Pond, with bug-repellants and her heavy photography gear and spending several hours behind a hide to photograph a Black-crowned Night Heron. The hostess Sam ShivRaj also discussed many of her photographs taken in locations in the United States and India and the story behind them. A one-legged Great Blue Heron, a Green Bee-eater eating a green bee and a Rufous Hummingbird which had overstayed beyond the Fall migration were the highlights of the discussion.
Vidhya shared that she was working on two new books which she hopes to be ready for publishing during the spring of 2014.
About the author
Vidhya Narayanan is an alumnus of New York Institute of Photography. She is an active Wikipedian and contributes many of her photographs for the Wikipedia pages. Several of her photographs have been used, on request, for personal and commercial needs by professionals and writers across the world.
Vidhya is a wildlife enthusiast and does her bit for nature and wildlife conservation through various societies that she is part of. She is an associate member of the Audubon Society, the New York City Audubon, the National Wildlife Federation, the National Geographic Society and a life member of the Bird Watchers Society of Andhra Pradesh. Her website is http://vidhyanarayanan.com
Members of the media who wish to interview the author may contact 201-744-9354, or reach out via the Contact form on the web site.